About this WINE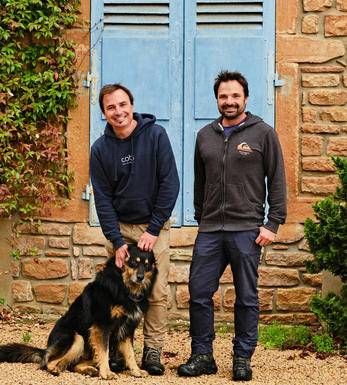 Bret Bros.
Grandfather Bret bought this property in Vinzelles in 1947. In 2000 Jean-Philippe and Jean-Guillaume Bret took their vineyards out of the local co-operative and established their Domaine de la Soufrandière (see here for the wine selection from la Soufrandière) with 4 hectares of vines entirely in the appellation of Pouilly Vinzelles. They have also developed a negociant activity using the name Bret Brothers.

Previous experience between them includes stages at Ridge and Newton in California and Comte Lafon in Burgundy. Most of their vines are in a perfectly situated east facing slope of Vinzelles called Les Quarts, on Bajocian limestone with a high silica/quartz content.

The vineyards have been farmed organically since 2000, with biodynamic principles being progressively introduced. The grapes, both their own and those purchased, are picked in small containers, then whole bunch pressed in the tinailler (local Maconnais and Beaujolais word for cuverie) before descending by gravity to the barrel cellar. They are currently all taken out of barrel for bottling after 11 months.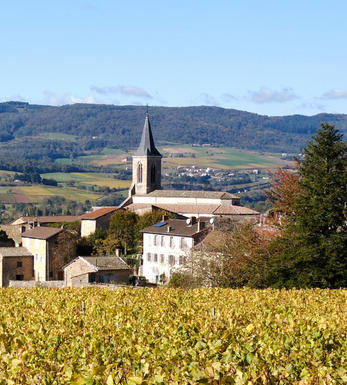 The Maconnais
The Mâconnais is currently perhaps Burgundy's most dynamic region. In the past only Pouilly-Fuissé – source of rich and ripe white wines – stood out from the crowd, but not only are such satellite appellations as Pouilly-Vinzelles and the newly-created (ie in 1998) Viré-Clessé coming alive, but a new generation of growers are also now producing some excellent Mâcon Villages.

These wines used to be cheap and simple, rarely lasting more than a year or two after the vintage, but now one or two growers in each village are making proper, oak-aged, complex and reasonably-concentrated wines which will develop well in bottle.
53 hectares of AC Mâcon (70 percent white)
406 hectares of AC Mâcon Superieur (75 percent red).
1,840 hectares of AC Mâcon Villages. Best individual villages include La Roche Vineuse, Lugny, Milly-Lamartine, Chardonnay, Uchizy.
291 hectares of AC St Véran. Recommended producers include Domaine des Deux Roches, Olivier Merlin.
47 hectares of AC Pouilly Vinzelles and 31 hectares of AC Pouilly Loché. Recommended producers include Bret Bros, Domaine de la Soufrandiere.
211 hectares of AC Viré Clessé. Recommended producers include Bret Bros, Domaine Ste Barbe,
764 hectares of AC Pouilly Fuissé. Recommended producers include Ch de Fuisse, Ch des Rontets, Bret Bros, Olivier Merlin, Cordier.
Recommended Restaurant : La Table de Chaintré (Chaintré)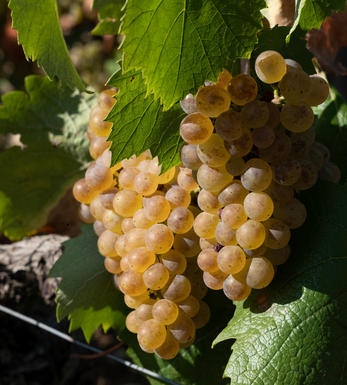 Aligoté
A grape that was first recorded in Burgundy in the 18th century and is still planted almost exclusively there, though there are limited plantings in Bulgaria, Moldavia and even California. It is a moderate-yielding grape that tends to perform best on south-east facing slopes and in warm, dry years.
For your Burgundian vigneron, Aligoté is not nearly as profitable to grow as Chardonnay - consequently it tends to be relegated to lower quality vineyards. In the wrong hands and in the wrong sites it can produce thin, raspingly acidic wines that are remarkably undistinguished. However the best growers produce balanced examples with nutty and citrus hints which are most appealing to drink. The best Aligoté wines traditionally come from Bouzeron in the Côte Chalonnaise. Along with blackcurrant liqueur, it is the key ingredient of Kir.