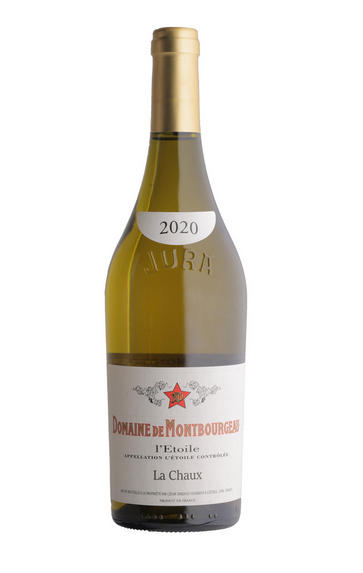 2020 L'Etoile, Chardonnay, La Chaux, Domaine de Montbourgeau, Jura
Prices start from £30.50 per bottle (75cl).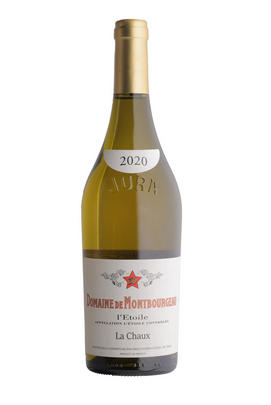 About this WINE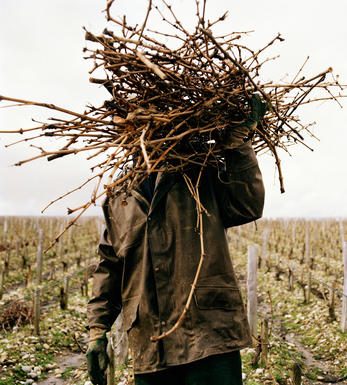 Domaine de Montbourgeau
Domaine de Montbourgeau is in the village of L'Etoile, within the Jura wine region in eastern France. The Jura is renowned for its distinct winemaking traditions, including the traditional winemaking technique called "ouillé" (topping up barrels to avoid oxidation) for some of its wines.
The estate has a history dating back several generations. It was founded in 1920 by Pierre Jeannin and has remained in the family ever since. Today, it is run by Nicole Deriaux, Pierre Jeannin's granddaughter.
The Domaine owns vineyards covering around 9 hectares of land and is primarily planted with indigenous Jura grape varieties such as Savagnin, Chardonnay, Poulsard, and Trousseau.
One of the standout wines produced by Domaine de Montbourgeau is Vin Jaune, a type of oxidative wine made from the Savagnin grape and aged in small oak barrels for at least six years and three months. This ageing process allows the wine to develop its characteristic nutty and oxidized flavours.
Aside from Vin Jaune, the estate also produces other Jura wine styles, including Côtes du Jura Blanc, white wines made primarily from Chardonnay, often displaying the region's signature oxidative character. L'Etoile, a sub-appellation within the Jura region, producing white and red wines, typically made from Chardonnay and Poulsard or Trousseau, respectively. Macvin, a traditional Jura fortified wine blending freshly pressed grape juice with Marc (a distilled grape spirit). Côtes du Jura Rouge, red wines made primarily from the Poulsard and Trousseau grape varieties, ranging from light and fruity to more structured and complex.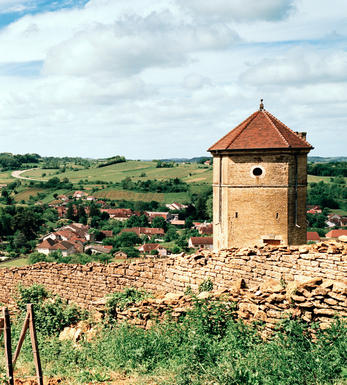 Jura
An hour's drive east of Beaune lies the 1,450-hectare Jura umbrella appellation, comprising the Arbois, Arbois-Papillon, Côtes du Jura, Chateau-Chalon and L'Etoile viticultural zones.

Of these, Château-Chalon is the smallest at 690 hectares, and focuses exclusively on making Vin Jaune, the prized sweet wine that was first made in the 14th century. L'Étoile produces a variety of styles, meanwhile, mainly oxidative Chardonnay as well as Vin Jaune and Vin de Paille.
The area is dramatically beautiful, as much for its sub-alpine landscape as for its remarkable wines, which draw on an essentially continental climate, a multi-faceted and varied terroir (limestone crowns over blue, red and grey marl), and indigenous varietals of Savagnin, Trousseau and Poulsard, alongside Chardonnay and Pinot Noir.
In a style not dissimilar to Sherry, a flor or voile yeast is encouraged to grow on all good Savagnins which effectievly start out as a Vin Jaune, before being pulled after a few years in cask, undisturbed, to be bottled as Côtes du Jura (often blended with some Chardonnay).

Vin Jaune itself requires six years and three months to graduate, again non ouillés (not topped up), before being bottled in the traditional 62cl Clavelin, with the Château-Chalon appellation the finest source.
The red Poulsard and Trousseau make fascinating dry wines, yet also are blended together with Savagnin when making the delicious Vin de Paille, which demands low yields of 20 hl/ha, and at least six weeks shrivelling on straw mats, followed by three years in cask before bottling.

Macvin is a largely sweet-wine-making appellation that sources its grapes from all over the Jura region. Macvin wines are produced by stopping the fermentation with the addition of the local spirit.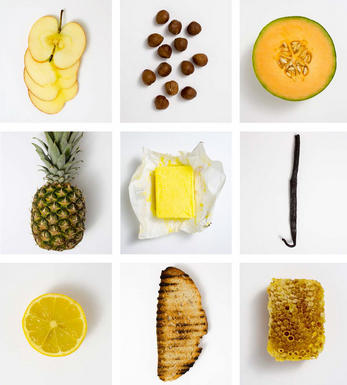 Chardonnay
Chardonnay is often seen as the king of white wine grapes and one of the most widely planted in the world It is suited to a wide variety of soils, though it excels in soils with a high limestone content as found in Champagne, Chablis, and the Côte D`Or.

Burgundy is Chardonnay's spiritual home and the best White Burgundies are dry, rich, honeyed wines with marvellous poise, elegance and balance. They are unquestionably the finest dry white wines in the world. Chardonnay plays a crucial role in the Champagne blend, providing structure and finesse, and is the sole grape in Blanc de Blancs.
It is quantitatively important in California and Australia, is widely planted in Chile and South Africa, and is the second most widely planted grape in New Zealand. In warm climates Chardonnay has a tendency to develop very high sugar levels during the final stages of ripening and this can occur at the expense of acidity. Late picking is a common problem and can result in blowsy and flabby wines that lack structure and definition.

Recently in the New World, we have seen a move towards more elegant, better- balanced and less oak-driven Chardonnays, and this is to be welcomed.