2012 Pimpernel Vineyards GSM2, Yarra Valley, Victoria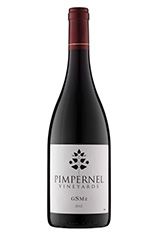 The Producer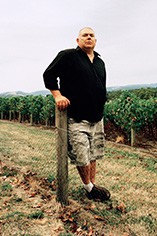 Pimpernel Vineyards
Located in Australia's Yarra Valley, Pimpernel Vineyards is an exciting family-run producer of top quality Australian wines.

Winemaker Mark Horrigan's wine experience began in youth. In a burgeoning Australian wine culture, his father, a professor of economics, was intent to pass on his passion for wine to the next generation. Frequent winery visits led to close friendships with winemakers. Wine was so much part of the family routine the garage was occasionally transformed into a bottling line, the unit for which is now on display in the Pimpernel Vineyards Wine Room. Immersion was underway and evidently irreversible.

Postponing the promotion of wine to first choice career, Mark was an interventional cardiologist in Australia and the US. Whilst working in Sydney the idea of his own vineyard (re)surfaced and he and his wife Fiona, a successful accountant, started their search for a suitable plot. The Hunter wines weren't suited to Mark's idea of what he wanted to make and couldn't offer a vineyard in close proximity to a metropolis. It was in 1997, returning to Melbourne that the Yarra Valley became the focus of the search. The site, finally purchased in 2001, was an un-planted, North facing plot with some very successful neighbours: Yarra Yering, Coldstream Hills and Yeringberg.

With assistance from the late Dr. Bailey Carrodus, the model for production was established. Dry farming, hand tending, green cropping, minimal intervention: 'Lutte raisonée' with a predilection for organics. Taking full advantage of the Yarra Yering experience, small improvements were made notably implementing gravity fed wine making facilities and underground cellars.

Initially the plantings were traditional for the Yarra Valley, five clones of Pinot Noir and Chardonnay. Syrah was planted in 2004 and subsequently joined by its Rhône cousins Marsanne, Grenache and Mouverdre. Latterly plans for sweeter wines have welcomed Chenin Blanc and Muscat of Alexandria.

With fifteen acres in the Yarra Valley, there are no plans for expansion locally. Mark sees opportunities for improvement in the vineyard with greater attention to the vines throughout the growing season as they enter maturity. There are so many opportunities for variety at hand we can hardly blame the team at Pimpernel for wanting to consolidate.

View Producer
The Grape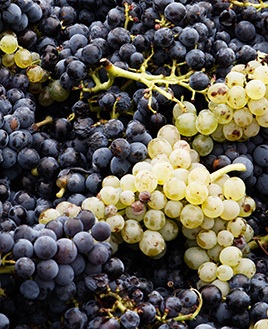 Southern Rhône Blend
The vast majority of wines from the Southern Rhône are blends. There are 5 main black varieties, although others are used and the most famous wine of the region, Châteauneuf du Pape, can be made from as many as 13 different varieties. Grenache is the most important grape in the southern Rhône - it contributes alcohol, warmth and gentle juicy fruit and is an ideal base wine in the blend. Plantings of Syrah in the southern Rhône have risen dramatically in the last decade and it is an increasingly important component in blends. It rarely attains the heights that it does in the North but adds colour, backbone, tannins and soft ripe fruit to the blend.
The much-maligned Carignan has been on the retreat recently but is still included in many blends - the best old vines can add colour, body and spicy fruits. Cinsault is also backtracking but, if yields are restricted, can produce moderately well-coloured wines adding pleasant-light fruit to red and rosé blends. Finally, Mourvèdre, a grape from Bandol on the Mediterranean coast, has recently become an increasingly significant component of Southern Rhône blends - it often struggles to ripen fully but can add acidity, ripe spicy berry fruits and hints of tobacco to blends.
View Grape
The Region
Victoria's oldest viticultural area dates back to 1837. Initially it won admiration and trophies for its dry wines before losing out first to the fortifieds from South Australia, and then to the dairy cow. The 1960s saw its revival with Dr Bailey Carrodus founding Yarra Yering in 1969, closely followed by another medic, Dr John Middleton, launching Mount Mary in 1971.
Famous for its Pinot Noir and Chardonnay, the region has attracted interest from sparkling houses, notably Domaine Chandon as well as from one or two corporates; Melbourne's continued sprawl represents the biggest threat to this Victorian idyll.
The climate is cool maritime (it's just 15 miles to the ocean), exposed to wind and rain with spring frosts a potential risk. The region's warmer northerly aspects are preferred for viticulture. The best soils are underpinned by a low vigour, red-brown clay subsoil, while a significant swathe of the region is characterised by vigorous deep-red loam.

Recommended producers: Toolangi, Mount Mary
View Region
Customer Reviews
Questions And Answers