About this WINE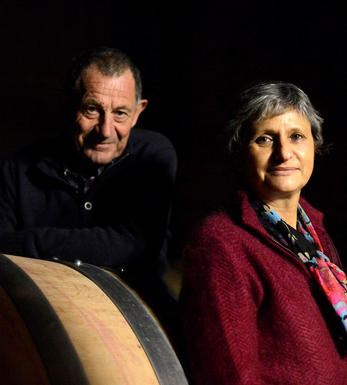 Mas Champart
The French wine region of St Chinian is located in the photogenic foothills of the Cevennes to the north of Beziers and is sandwiched, for those who know their vinous map, between Minervois and Faugères. The complex mosaic of terroir here may be simplified into higher -ground schist in the north (the enclave of Berlou is adjacent to Faugères) and limestone on the lower southern slopes. Mas Champart's vineyards are mainly located in the latter camp.

Founded in 1976, Mas Champart is owned by the unassuming Parisian (is this a contradiction in terms?) couple Isabelle and Mathieu. They farm 25 hectares and are traditional in virtually all aspects of their winemaking, the notable exception being their passion for Cabernet Franc, a souvenir from several trips to the Loire Valley. Their Vin de Pays red wine contains up to 75% Cabernet Franc to be precise, the balance a kaleidoscope of local colour, headed by Syrah and Grenache.

The Cote d'Arbo cuvee is a blend of Syrah, Grenache, very old-vine Carignan and Mourvèdre, farmed at low yields and bottled with minimal intervention after ageing in tanks.

Their outstanding white wine is made up of 80% Terret and 20% Grenache Gris, ancient historical varieties in these parts and therefore, he says ironically, not permitted within the local AOC rules. Therefore it is a Vin de Pays, soon to be an IGP d'Hérault.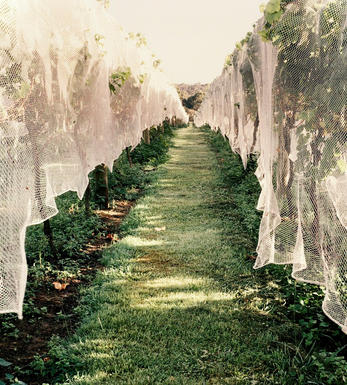 St-Chinian
Saint-Chinian is a distinctive and delightful French wine appellation with a spectacular backdrop, adorning the foothills of the Cévennes mountains between the larger appellations of Faugères and Minervois.
St Chinian can be divided into two camps, geologically and stylistically. Surrounding the eponymous village, clay soils produce pleasing, fruity wines. Further to the north, at Vieussan and Berlou, we enter a dramatic, schistous landscape at altitudes of over 200 metres.

These wines are more powerful, with often extraordinary gustatory profiles and haunting aromas; Grenache, Syrah and Mourvèdere are increasingly important components in these blends. The best wines are both powerful and elegant, and always have plenty of personality.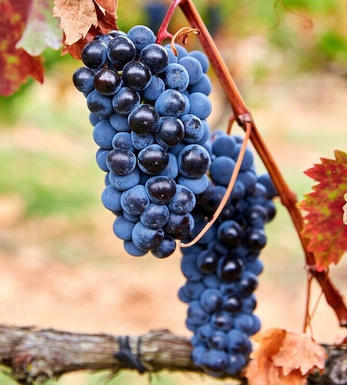 Southern Rhône Blend
The vast majority of wines from the Southern Rhône are blends. There are 5 main black varieties, although others are used and the most famous wine of the region, Châteauneuf du Pape, can be made from as many as 13 different varieties. Grenache is the most important grape in the southern Rhône - it contributes alcohol, warmth and gentle juicy fruit and is an ideal base wine in the blend. Plantings of Syrah in the southern Rhône have risen dramatically in the last decade and it is an increasingly important component in blends. It rarely attains the heights that it does in the North but adds colour, backbone, tannins and soft ripe fruit to the blend.
The much-maligned Carignan has been on the retreat recently but is still included in many blends - the best old vines can add colour, body and spicy fruits. Cinsault is also backtracking but, if yields are restricted, can produce moderately well-coloured wines adding pleasant-light fruit to red and rosé blends. Finally, Mourvèdre, a grape from Bandol on the Mediterranean coast, has recently become an increasingly significant component of Southern Rhône blends - it often struggles to ripen fully but can add acidity, ripe spicy berry fruits and hints of tobacco to blends.