About this WINE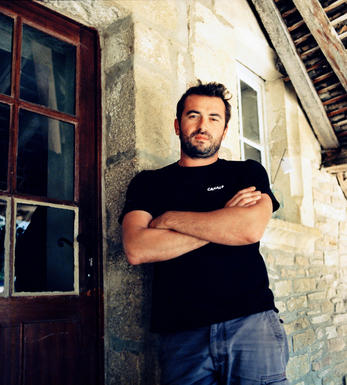 Domaine Comte Armand
The family of the Comte Armand has owned the vineyard of Clos des Epéneaux and the winery buildings in Pommard since 1826 when Jean-François Armand married Clothilde Marey. Unfortunately the vineyard was not replanted after phylloxera until 1930, but since then it has confirmed its rating as one of Pommard's very finest sites.

Pascal Marchand, a young Quebecois from the merchant marine, made the wines here from the 1985 to 1998 vintages inclusive. During his time in charge he completely transformed the domaine, elevating its ranking to that of the greatest estate in Pommard. His place has been taken by Benjamin Leroux who had been working part time at the domaine during his studies since 1991.

Benjamin Leroux, still in his thirties and newly married to an English girl from Silverstone, has been in charge at Comte Armand since 1999. He is one of Burgundy's most vociferous advocates of bio-dynamic viticulture (with a particular interest in lunar cycles) and his No 1 spot in Bourgogne Aujourd'hui magazine's Top 10 for the next decade came as no surprise. After years of organic farming, with certification since 2005, the domaine is now biodynamic. The Clos des Epeneaux is being worked by horses (in part so as to be able to compare horse against tractor; the soil has become much finer in the horse-ploughed sector), while various fruit trees, roses and other plants have been introduced along the walls. A colony of bees was to follow, but they did not survive the intense heat of the summer of 2003.

Where possible the grapes are picked on suitable days in the biodynamic calendar and each cuvée is thereafter maintained on a 28-day cycle – thus 28 days cuvaison (one week cold maceration, one week fermentation, two weeks post-fermentation maceration), with racking and other treatments following in multiples of 28 days. Benjamin notes that after three weeks in vat, the tannins often become tough and disagreeable but it is important not to panic. By the end of four weeks the wine has come back into balance and seems to show enhanced terroir character in place of primary fruit.

After many years when the Clos des Epeneaux was the sole wine made at the domaine, further vineyards were acquired in 1994: Auxey-Duresses, Auxey-Duresses premier cru, Volnay and Volnay Fremiets. The younger vines from the Clos des Epeneaux are also sold as Pommard or Pommard premier cru.

In July 2008 I attended an extraordinary tasting to celebrate the bicentenary of the putative original enclosure of the vineyard by Nicolas Marey – the exact date is uncertain but it was in the first decade of the 19th century. It was extraordinary to see the character of the vineyard assert itself under the tutelage of gifted winemakers, and to be diverted by those less meticulous. The 1864 vintage remained in a state of grace even 40 minutes after opening.

Cuvée of Auxey Duresses comes from purchased grapes from three different vineyards on the flank of the hillside where Auxey takes over from Meursault. The wine is aged in larger barrels so as not to show too much oak. The cuvée is named for an ancestor of the Comte Armand's, Nicolas Marey, who bought extensive vineyards just after the French revolution.

Comte Armand's Pommard Clos des Epéneaux must surely be considered among the great red wines of all Burgundy. But don't be in a hurry to drink it.

Jasper Morris MW, Burgundy Wine Director and author of the award-winning Inside Burgundy comprehensive handbook.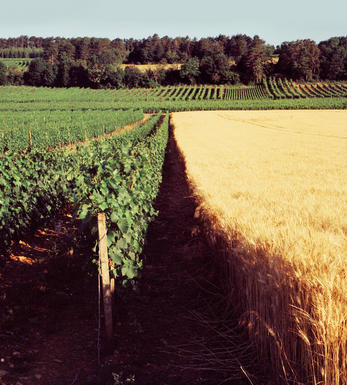 Bourgogne Aligote

Bourgogne Aligoté is a regional Appellation d'origine contrôlée (AOC) for white wines produced in Burgundy from the Aligoté variety of grape, which dates from 1937.

Aligoté grapes have played a prominent role in white Burgundy production since the 1600s, but are now being phased out in favour of the more popular and profitable Chardonnay grape: in 2007 only 1,700 hectares (4,200 acres) of Aligoté were grown compared to the 12,800 hectares (32,000 acres) of Chardonnay. The AOC regulations permit up to 15% Chardonnay to be blended with the Aligoté.

Bourgogne Aligoté is usually regarded as a somewhat more acidic wine, best enjoyed in its youth due to its lighter nature. It is also a primary component in the production of the popular French cocktail kir, by combining the Aligoté wine with the blackcurrant liqueur crème de cassis.

Aligoté has one appellation exclusive to its grape: Bouzeron, in the Côte Chalonnaise region of Burgundy, where 53 hectares are dedicated to this unique Aligoté based wine.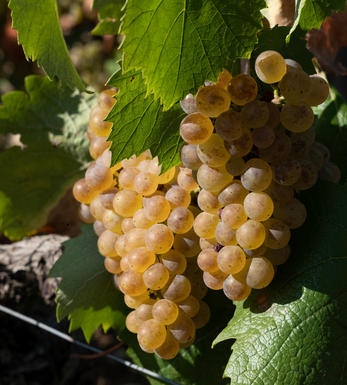 Aligoté
A grape that was first recorded in Burgundy in the 18th century and is still planted almost exclusively there, though there are limited plantings in Bulgaria, Moldavia and even California. It is a moderate-yielding grape that tends to perform best on south-east facing slopes and in warm, dry years.
For your Burgundian vigneron, Aligoté is not nearly as profitable to grow as Chardonnay - consequently it tends to be relegated to lower quality vineyards. In the wrong hands and in the wrong sites it can produce thin, raspingly acidic wines that are remarkably undistinguished. However the best growers produce balanced examples with nutty and citrus hints which are most appealing to drink. The best Aligoté wines traditionally come from Bouzeron in the Côte Chalonnaise. Along with blackcurrant liqueur, it is the key ingredient of Kir.