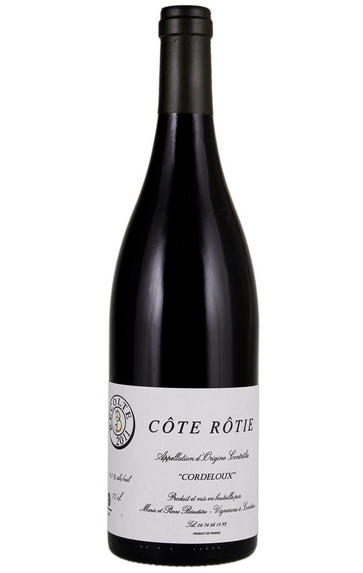 2015 Cordeloux Syrah, Domaine Marie & Pierre Benetière, Rhône
Prices start from £1,555.00 per case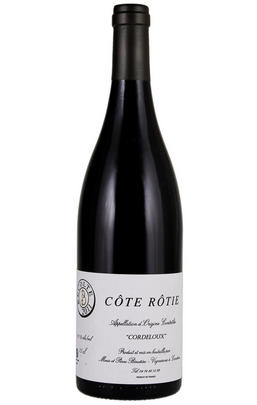 About this WINE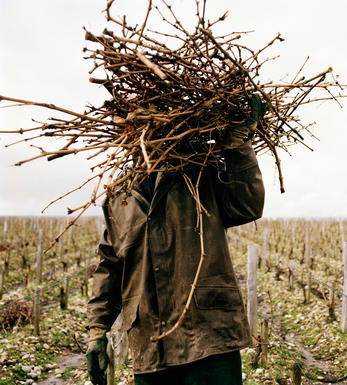 Domaine Benetiere
Condrieu's fall from grace, commercial or otherwise, has only relatively recently been addressed and now, given its meagre dimension, vines are so hard to come by that all those wise enough to have clung onto them in the depressed times are now unlikely to forsake them. Young (with a parenthetical 'ish' added) growers such as Pierre Benetière, an alumnus of Domaine Georges Vernay, have been lucky to get any foot-hold at all.

His 2.5 hectares are on good south-east facing sites, at an altitude of 250 metres or so...good sites, but not the very best. He manages somehow, paradoxically by being rigorously conventional, to coax great extract and finesse from his vines, the eldest of which have 20 years. Barrel fermentation and elevage, coupled with a full malolactic and occasional bentonite fining, can hardly be seen as controversial, or even especially inspired. And yet his Condrieus are amongst the best in the appellation. Must be something to do with his rather waspish sense of humour.
Simon Field MW, BBR Buyer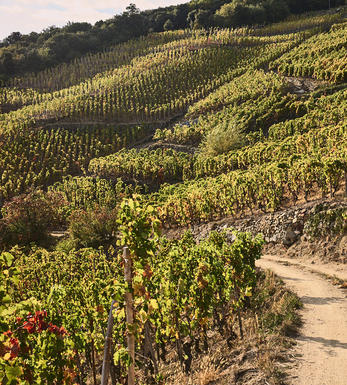 Condrieu
Until you've tasted Viognier grown in Condrieu, you've never truly experienced the grape's majesty. In the same way that winemakers the world over have planted Pinot Noir in the hope of emulating red Burgundy, so too they've planted Viognier in the hope of achieving the unique balance of exotic perfume, weight and freshness for which Condrieu is famed. Few succeed. Traditionally, winemakers here have used relatively inert, large wooden vessels vinification and élevage are in relatively inert, large, wooden vessels, but the new generation of winemakers are increasingly interested in the qualities of new oak.

Plantings have expanded beyond the core of the AOC, around the village itself, to 140 hectares from the low of eight hectares in the 1960s. The vineyards pick up where Côte-Rôtie leaves off, the slope continues, but the schist of the north begins to give way to a little more granite and a topsoil of decomposed mica. Today the appellation is characterised by energy and creativity, and demand for the wines from this diminutive region is soaring.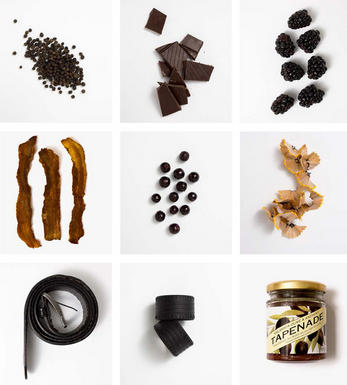 Syrah/Shiraz
A noble black grape variety grown particularly in the Northern Rhône where it produces the great red wines of Hermitage, Cote Rôtie and Cornas, and in Australia where it produces wines of startling depth and intensity. Reasonably low yields are a crucial factor for quality as is picking at optimum ripeness. Its heartland, Hermitage and Côte Rôtie, consists of 270 hectares of steeply terraced vineyards producing wines that brim with pepper, spices, tar and black treacle when young. After 5-10 years they become smooth and velvety with pronounced fruit characteristics of damsons, raspberries, blackcurrants and loganberries.

It is now grown extensively in the Southern Rhône where it is blended with Grenache and Mourvèdre to produce the great red wines of Châteauneuf du Pape and Gigondas amongst others. Its spiritual home in Australia is the Barossa Valley, where there are plantings dating as far back as 1860. Australian Shiraz tends to be sweeter than its Northern Rhône counterpart and the best examples are redolent of new leather, dark chocolate, liquorice, and prunes and display a blackcurrant lusciousness.

South African producers such as Eben Sadie are now producing world- class Shiraz wines that represent astonishing value for money.