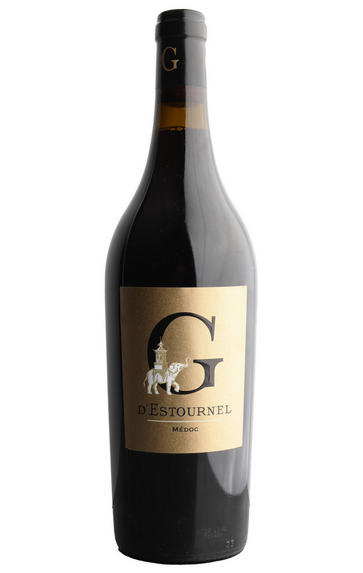 2016 G d'Estournel, Médoc, Bordeaux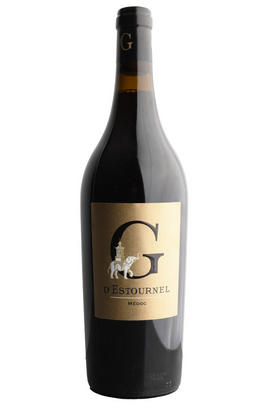 About this WINE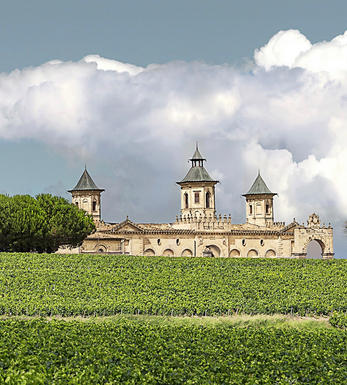 Cos d'Estournel
Château Cos d`Estournel is named after its 19th century owner, Louis-Gaspard d'Estournel, and it was he who built the bizarre oriental edifice that is a landmark for any tourist in the Médoc. Today Cos d'Estournel is without doubt the leading estate in St-Estéphe. It is located in the south of the appellation on the border with Pauillac and its vineyards are superbly sited on a south-facing gravel ridge with a high clay content, just north of Lafite.
Cos d'Estournel is typically a blend of 60% Cabernet Sauvignon, 38% Merlot and 2% Cabernet Franc - do not be fooled by the relatively high Merlot content, as these are full-bodied, dark, brooding tannic wines when young which develop a complexity and intensity that can rival many top growths from Pauillac.
In 1998 the Prats family sold Cos d'Estournel to The Tailan Group. Cos d'Estournel is classified as a 2ème Cru Classé.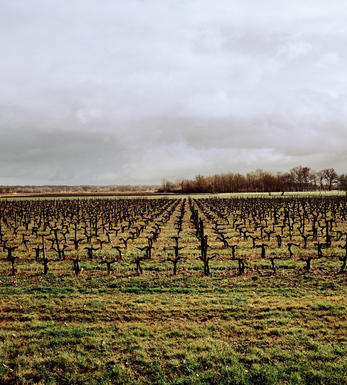 Médoc
The Médoc is arguably the most famous red wine district in the world, home to many of the greatest and most renowned names of Bordeaux. It stretches north-west from the city of Bordeaux with the Gironde estuary to the east. The vineyards extend up to eight miles from the river and run for about 50 miles northwards. It is a surprisingly dull landscape, with the best land found on gravelly outcrops.
The most northerly, low-lying vineyards are classified as Bas-Médoc, whilst those on higher ground, closer to the city of Bordeaux, are entitled to the Haut-Médoc appellation. Within that appellation, there are further communal or village appellations, namely Listrac and Moulis, and the four great names of St. Estèphe, Pauillac, St Julien and Margaux. As a rule of thumb, the greatest wines are made at those properties closest to the river.
Recommended Châteaux from the Bas-Médoc: Ch. Le Boscq, Ch. Patache d'Aux, Ch. Potensac, Ch. la Tour de By, Ch. La Tour Carnet, La Tour Haut-Caussan, Ch. La Tour-St-Bonnet, Ch. Verdignan, Ch. Rolland de By
Recommended châteaux from the Haut-Médoc : Ch. La Lagune, Ch. Cantemerle, Ch d'Agassac, Ch. Belgrave, Ch. Camensac, Ch. Charmail, Ch. Cissac, Ch. Citran, Ch. Lanessan, Ch. Liversan, Ch. du Moulin Rouge, Ch. Sociando-Mallet, Ch. La Tour Carnet, Ch. Verdignan, Ch. d'Arche, Ch. Beaumont, Ch. Lamothe-Bergeron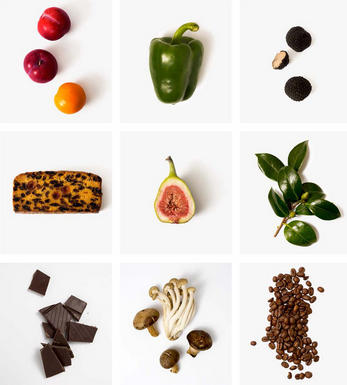 Merlot
The most widely planted grape in Bordeaux and a grape that has been on a relentless expansion drive throughout the world in the last decade. Merlot is adaptable to most soils and is relatively simple to cultivate. It is a vigorous naturally high yielding grape that requires savage pruning - over-cropped Merlot-based wines are dilute and bland. It is also vital to pick at optimum ripeness as Merlot can quickly lose its varietal characteristics if harvested overripe.
In St.Emilion and Pomerol it withstands the moist clay rich soils far better than Cabernet grapes, and at it best produces opulently rich, plummy clarets with succulent fruitcake-like nuances. Le Pin, Pétrus and Clinet are examples of hedonistically rich Merlot wines at their very best. It also plays a key supporting role in filling out the middle palate of the Cabernet-dominated wines of the Médoc and Graves.
Merlot is now grown in virtually all wine growing countries and is particularly successful in California, Chile and Northern Italy.