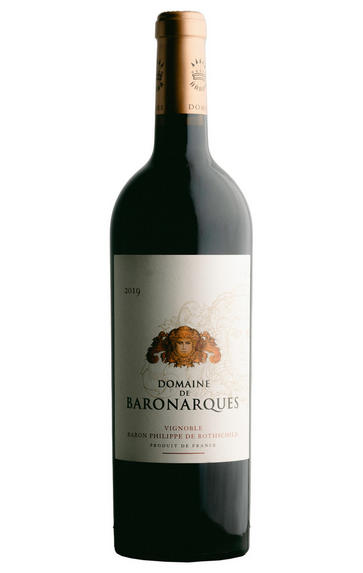 2021 Domaine de Baronarques, Rouge, Limoux, Languedoc
Critics reviews
The Rothschild family's Limoux estate is showing impressive hold and tension, rooted in the south of France giving an exoticism to the Bordeaux varieties. Fragrant waves of osemary and red rose petals, along with bilberry and blackberry fruits.
Drink 2025-2036
Jane Anson, JaneAnson.com (August 2023)
A refined nose of blackberries, dark cherries, dried herbs, earth and black pepper with a touch of cedar, too. It's medium- to full-bodied with fine, firm tannins. Well-structured with a harmonious core of berries and spices at the center. Well-framed and focused with texture and a long finish. Try after 2025.
James Suckling, JamesSuckling.com (August 2023)
Elegant, subtle yet aromatically expressive and very beautifully scented. Wild herbs. A lovely leafy freshness and a brilliantly plump crunchy fruit. Cassis. Blueberry. This is lively, charged and vertical – there's almost a sense of St Emilion plateau limestone about this, with that verticality and those ultra-fine-grained chalky tannins. A fascinatingly complex wine, even at this early stage. Very much a wine of delicacy and finesse. I love the sapidity and the rippling juiciness on the finish. Etiolated and refined, with just a little of the warmth of the south to it. 
Colin Hay, The Drinks Business
About this WINE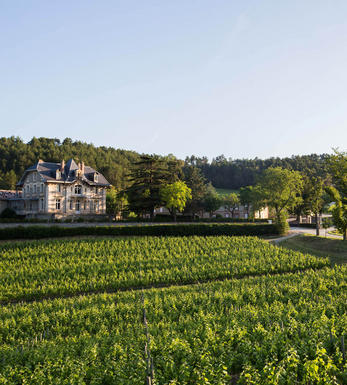 Domaine de Baronarques
Domaine de Baronarques is a wine estate in the Languedoc-Roussillon region in the South of France. It lies in the Saint-Polycarpe commune within the appellation of Limoux, part of the Aude department. Once owned by the eighth-century Benedictine Abbey of Saint-Polycarpe, the domaine is now part of the Baron Philippe de Rothschild group. The portfolio includes leading Bordeaux properties Châteaux Mouton Rothschild, Clerc Milon and d'Armailhac, among other notable names. Domaine de Baronarques and the wider group belong to Camille Sereys de Rothschild, Baron Philippe Sereys de Rothschild and Julien de Beaumarchais de Rothschild.
The estate's geographical location mean it enjoys influence from both the Atlantic Ocean and the Mediterranean Sea. This impacts the choice of grape varieties cultivated here, which are a mix of those you might find in Southern France along with those more typical of Bordeaux. The vineyard plantings include Merlot, Cabernet Franc, Cabernet Sauvignon, Syrah and Malbec for reds; and Chardonnay and Chenin Blanc for whites. All grapes are harvested by hand.
In the cellar, the red wines are vinified individually in small tanks before careful blending. Domaine de Baronarques Rouge undergoes 12 months' barrel ageing. Domaine de Baronarques Blanc is whole-bunch pressed, fermented in barrel and then aged in French oak for eight months. The proportion of new oak used is kept low.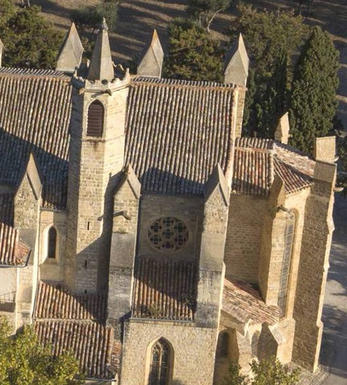 Limoux
Limoux is a picturesque town in the Occitanie region's Aude department in southern France. It's known for its historical significance and its contributions to winemaking. One of the notable aspects of winemaking in Limoux is its claim to fame as one of the earliest regions to produce sparkling wine, even before Champagne.
The region is particularly famous for producing Blanquette de Limoux, considered one of the oldest sparkling wines in the world. It dates back to the 16th century and is made using the traditional method, which involves a secondary fermentation in the bottle to create the bubbles. The grapes used for Blanquette de Limoux include Mauzac, Chardonnay, and Chenin Blanc.
In addition to Blanquette de Limoux, the region produces Crémant de Limoux. This sparkling wine uses the same traditional method as Champagne, with a second fermentation in the bottle. It can be crafted from Chardonnay, Chenin Blanc, Mauzac, and Pinot Noir grapes, resulting in various styles ranging from dry to slightly sweet.
Limoux also produces still wines, both white and red. The white wines are typically made from Chardonnay and Chenin Blanc grapes and often exhibit a balance of freshness and fruitiness. The red wines are usually crafted from Bordeaux varietals like Merlot, Cabernet Sauvignon, and Malbec, as well as local grapes such as Syrah and Grenache.
The terroir of Limoux is characterised by a combination of Mediterranean and Atlantic influences, which contributes to the unique characteristics of the wines produced here. The region's diverse soils, ranging from clay to limestone, also play a significant role in shaping the flavour profiles of the wines.
Winemakers in Limoux use modern and traditional techniques to craft their wines. The traditional method of secondary fermentation in the bottle for sparkling wines is a hallmark of the region. For still wines, careful vineyard management, precise harvesting, and thoughtful vinification processes contribute to the quality of the final product.
In recent years, Limoux has gained recognition for its commitment to producing high-quality wines and maintaining its unique winemaking traditions. It continues to be a significant player in sparkling wines, offering an alternative to the more famous Champagne while showcasing its distinctive character.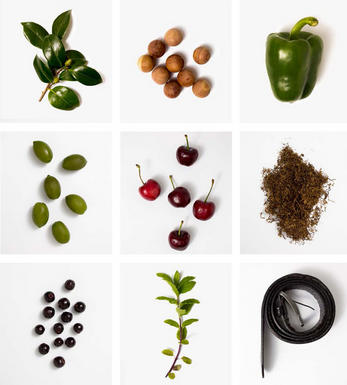 Cabernet Sauvignon Blend
Cabernet Sauvignon lends itself particularly well in blends with Merlot. This is actually the archetypal Bordeaux blend, though in different proportions in the sub-regions and sometimes topped up with Cabernet Franc, Malbec, and Petit Verdot.

In the Médoc and Graves the percentage of Cabernet Sauvignon in the blend can range from 95% (Mouton-Rothschild) to as low as 40%. It is particularly suited to the dry, warm, free- draining, gravel-rich soils and is responsible for the redolent cassis characteristics as well as the depth of colour, tannic structure and pronounced acidity of Médoc wines. However 100% Cabernet Sauvignon wines can be slightly hollow-tasting in the middle palate and Merlot with its generous, fleshy fruit flavours acts as a perfect foil by filling in this cavity.

In St-Emilion and Pomerol, the blends are Merlot dominated as Cabernet Sauvignon can struggle to ripen there - when it is included, it adds structure and body to the wine. Sassicaia is the most famous Bordeaux blend in Italy and has spawned many imitations, whereby the blend is now firmly established in the New World and particularly in California and Australia.