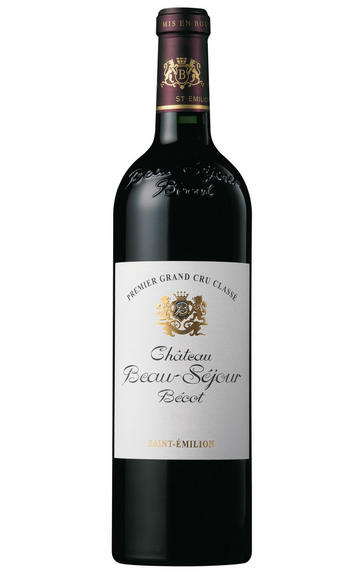 2022 Château Beau-Séjour Bécot, St Emilion, Bordeaux
Prices start from £354.00 per case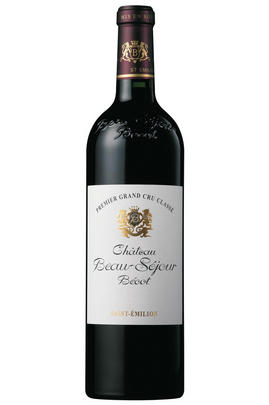 Critics reviews
Antonio Galloni, Vinous
98-100/100
The 2022 Beau-Séjour Bécot has a bit more Cabernet Franc than most years, which comes through immediately in the wine's aromatic profile. Dark, rich and expressive., the 2022 is seriously impressive. Crushed flowers, herbs, mint, blood orange and red-toned fruit all build into a sumptuous, majestic finish that just explodes on the back end. The 2022 is one of the very finest editions of Beau-Séjour Bécot I can remember tasting. It is a great, great wine.
Drink 2032 - 2052
Antonio Galloni, Vinous.com (April 2023)
Lisa Perrotti-Brown MW
95-97/100
A blend of 76% Merlot, 22% Cabernet Franc, and 2% Cabernet Sauvignon, the 2022 Beau-Sejour Becot has more Cabernet Franc than any previous vintage. The pH is 3.55 pH and it has a deep purple-black color. Notions of blackcurrant jelly, blackberry pie, and warm plums jump from the glass, followed by suggestions of cedar chest, Sichuan pepper, and garrigue. The medium to full-bodied palate is chock-full of juicy black fruit flavors, with bright acidity and ripe, rounded tannins, finishing long and earthy.
Drink 2029 - 2059
Lisa Perrotti-Brown, The Wine Independent (May 2023)
This has double the amount of Cabernet Franc in the blend as of this year after vineyard restructuring, and the chalkiness of the limestone helps underline the curling peony and violet floral character on the opening beats, balancing the intensity of the vintage. Plenty of blueberries and damson fruit, with bitter cocoa bean and coffee, saffron and smoked dried herbs. Highly successful. 
No irrigation; instead used cover crops and reduced the height of the canopy by 15cm to limit the transevaporation. Cold maceration for 10-15 days, 55% new oak, 30% oak casks, and amphoras. Jean de Cournuaud, technical director. 33hl/h yield after frost impact, harvest September 5 to 23. The new cellar will be ready for the end of August for the 2023 vintage.
Drink 2030 - 2048
Jane Anson, JaneAnson.com (May 2023)
The change to a more refined style clearly marked. Juicy, fresh and floral with a feather-light touch to the palate. Substance and structure, though, the tannins plentiful and long. Clean, refreshing finish, the limestone terroir apparent.
Drink 2030 - 2042
Jancis Robinson MW, JancisRobinson.com (May 2023)
With the 2022 Beau-Séjour Bécot, this estate has taken another step up the ranks in Saint-Émilion, producing a wine of breathtaking perfume and harmony that will be worth a special effort to seek out. Wafting from the glass with aromas of wild berries, violets, lilac, raw cocoa and forest floor, it's medium to full-bodied, seamless and complete, with an ample and enveloping core of weightless fruit, beautifully powdery tannins and a long, saline, resonant finish. 
Recently planted massale selection Cabernet Franc is now producing meaningful yields at this address, so this cépage now represents 22% of the blend, complemented by 2% Cabernet Sauvignon and the balance Merlot. The team harvested only in the mornings, picking Merlot from 5-18 September and Cabernet from 13-23 September, sub-block by sub-block.
William Kelley, Wine Advocate (April 2023)
Floral notes on the nose. Tangy and sharp, lively and bright straight away, sweet and sour, so energetic and lively with a mineral grip from the fine, firm, grippy tannins. Lovely precision and almost delicate presentation of fruit. You really feel the mineral, salty, tangy aspect of the fruit; nothing feels overworked, all in balance, really quite thrilling and electric. Great purity and focus.
Scintillating yet still with a lovely volume and roundness accented by tobacco, clove, liquorice and cinnamon touches. Really well worked and fresh - this feels very modern with such control to the fruit, tannins, and acidity giving overall depth and complexity. Elegant but confident, taking the best density from clay density and freshness from limestone. A very singular charm with this wine. 3.55pH. 10% press wine.
Drink 2029 - 2050
Georgina Hindle, Decanter (April 2023)
Tasted on multiple occasions, the 2022 Château Beau-Séjour Bécot always impressed, and I think it's one of the finest vintages for this château. Including more Cabernet Franc than usual and a blend of 76% Merlot, 22% Cabernet Franc, and 2% Cabernet Sauvignon, its ruby/purple hue is followed by a pure, ultra-fine, seamless Saint-Emilion with a beautiful core of black raspberry fruits supported by beautifully complex notes of chalky minerality, flowery incense, tobacco, and graphite.
Medium to full-bodied, with beautiful tannins and an excellent finish, this is never the most massive or concentrated wine in a vintage, yet it shines for its incredible sense of elegance, finesse, and complexity. The élevage here will span 18 months in 55% new French oak, and this hit 14.5% natural alcohol with a pH of 3.55. 
It will drink well for 30+ years.
Jeb Dunnuck, JebDunnuck.com (May 2023)
About this WINE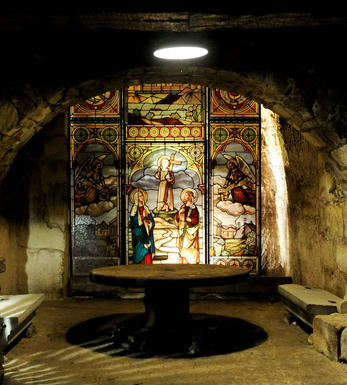 Château Beau-Sejour Becot
Ch. Beau-Séjour Bécot has experienced some dramatic ups and downs in recent decades: it was classified a Premier Grand Cru Classé B in 1955, demoted in 1986 and promoted once again, as a Premier Grand Cru Classé B, in 1996. The terroir is outstanding, most of it atop the limestone plateau. Juliette Bécot and husband Julien Barthe represent the third generation of Juliette's family here, along with her cousins Pierre and Caroline Bécot. Not so long ago, the wines were turbo-charged and Parker-friendly, ripe with lots of new oak and extraction. Under Juliette and Julien's guidance, there has been a major turnaround stylistically. Thomas Duclos consults here, having taken over from Michel Rolland.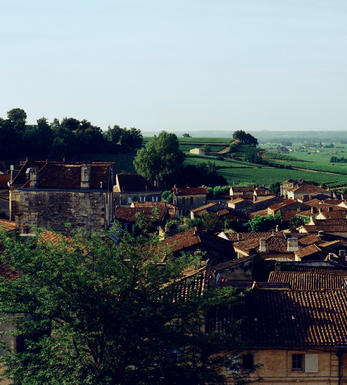 St-Emilion
St Emilion is one of Bordeaux's largest producing appellations, producing more wine than Listrac, Moulis, St Estèphe, Pauillac, St Julien and Margaux put together. St Emilion has been producing wine for longer than the Médoc but its lack of accessibility to Bordeaux's port and market-restricted exports to mainland Europe meant the region initially did not enjoy the commercial success that funded the great châteaux of the Left Bank.
St Emilion itself is the prettiest of Bordeaux's wine towns, perched on top of the steep limestone slopes upon which many of the region's finest vineyards are situated. However, more than half of the appellation's vineyards lie on the plain between the town and the Dordogne River on sandy, alluvial soils with a sprinkling of gravel.
Further diversity is added by a small, complex gravel bed to the north-east of the region on the border with Pomerol. Atypically for St Emilion, this allows Cabernet Franc and, to a lesser extent, Cabernet Sauvignon to prosper and defines the personality of the great wines such as Ch. Cheval Blanc.
In the early 1990s there was an explosion of experimentation and evolution, leading to the rise of the garagistes, producers of deeply-concentrated wines made in very small quantities and offered at high prices. The appellation is also surrounded by four satellite appellations, Montagne, Lussac, Puisseguin and St. Georges, which enjoy a family similarity but not the complexity of the best wines.
St Emilion was first officially classified in 1954, and is the most meritocratic classification system in Bordeaux, as it is regularly amended. The most recent revision of the classification was in 2012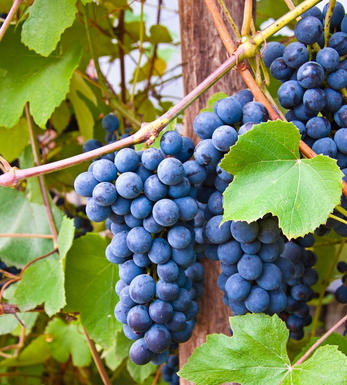 Merlot/Cabernet Franc
Merlot and Cabernet Franc are grape varieties commonly used in Bordeaux-style blends, particularly in the Bordeaux region of France. When these two grapes are blended, they can create a wine that combines the best characteristics of each variety.
Merlot is known for its smoothness, soft tannins, and ripe fruit flavours. It often contributes black cherry, plum, and chocolate flavours to the blend. The grapes are relatively easy to grow and ripen earlier than other Bordeaux varieties, making them versatile for blending.
Cabernet Franc, on the other hand, adds structure, depth, and complexity to the blend. It typically brings aromas of red fruits such as raspberry and strawberry, along with herbal notes like bell pepper and tobacco. These grapes have thinner skins and can be more challenging to cultivate, requiring specific growing conditions to reach their full potential.
When Merlot and Cabernet Franc are combined, the result is a well-balanced wine with various flavours and aromas. The blend often exhibits a Bordeaux wine's medium to full body, along with a smooth texture and moderate tannins. The specific flavour profile can vary depending on the proportions of each grape in the blend and the terroir and winemaking techniques employed.