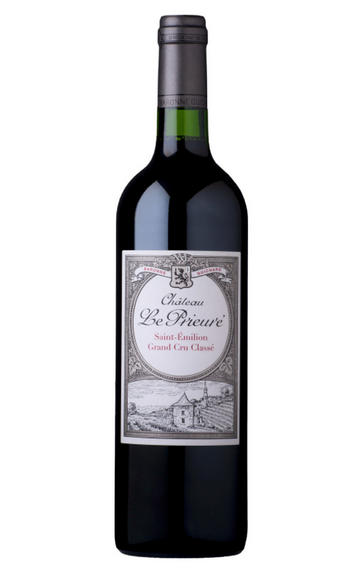 2022 Château Le Prieuré, St Emilion, Bordeaux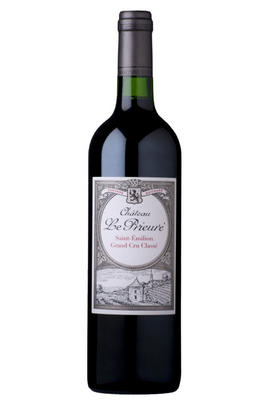 Critics reviews
Neal Martin, Vinous
92-94/100
The 2022 Le Prieuré is a blend of 92% Merlot and 8% Cabernet Franc, delivering a powerful 15.2% alcohol this year. For the first time, it contains fruit from Château Malineau, which features more clayey soil that Vincent Millet remarks lends to the cuvée its rondeur. It is matured in 30% new oak for 18 months. It has quite a rich and opulent bouquet, with confit-like blueberry and cassis fruit. I find this conveys less delineation than the Vray Croix de Gay and perhaps previous recent vintages. The palate is sweet and ripe on the entry with vivacious blueberry and cassis fruit, citrus fruit, hints of blood orange with a smear of dark chocolate toward the finish. Quite a "punchy" Saint-Émilion, but I may just prefer the 2020 by comparison. 
Drink 2028-2048
Neal Martin, Vinous.com (April 2023)
Antonio Galloni, Vinous
94-96/100
The 2022 Le Prieuré is another magnificent wine from one of Saint-Émilion's most under the radar properties. Dark blue/purplish fruit, gravel, spice, menthol and lavender are all finely delineated. As always, Le Prieuré is a wine of cool sophistication and finesse. Clean mineral notes extend the finish effortlessly. Superb.
Drink 2030-2060
Antonio Galloni, Vinous.com (April 2023)
Lisa Perrotti-Brown MW
92-94+/100
The 2022 Le Prieure, 92% Merlot and 8% Cabernet Franc, is deep garnet-purple in color. It comes bounding out of the glass with exuberant notes of black cherry preserves, juicy black plums; and black raspberries, followed by suggestions of cinnamon toast, candied violets, and garrigue. The big, rich, full-bodied palate is bursting with juicy black and blue fruits, framed by velvety tannins and plenty of freshness, finishing long and perfumed. pH 3.75.
Drink 2027-2047
Lisa Perrotti-Brown MW, The Wine Independent (May 2023)
Full intensity, given a sculpted quality by the limestone soils. Majors on damson, plums, crab apple and loganberry, offering freshness and lift even with these high alcohols. 30% new oak, and in amphras. Harvest September 13 to September, Vincent Millet director across the group, overseeing Le Prieure and Vray Croix de Gay as well as Calon Ségur over in St Estèphe. Eric Boissenot consultant as of this year. 40hl/h yield, 3.75ph. 30% new oak, plus one wine barrels and amphoras.
Drink 2028-2042

Jane Anson, janeanson.com (May 2023)
Exhibiting high-toned aromas of dark berries, balsamic cherries and fruit compote, the 2022 Le Prieuré is medium to full-bodied, rich and fleshy, with a ripe, heady core of fruit, supple tannins and a saline finish. Calon Ségur's Vincent Millet has big plans for this estate, so it will be an address to follow closely.

Wine Advocate (April 2023)
Lots of fruit and richness here, verging on jammy, with loads of ripe fruit and chocolate. Full and layered. Alcohol shows slightly. A blend of 92% merlot and 8% cabernet franc.
James Suckling, JamesSuckling.com (April 2023)
High toned and serious on the nose, concentrated, intense, ripe and perfumed, a touch of alcohol also. Focussed and taught but with a really super juicy and appealing initial burst of flavour, herbal raspberries, creamy strawberries and some stalky bramble blackcurrant giving sweetness, spice and tension. Clean, balanced and slick, this is stylish, generous and likeable but still with a serious core. The texture is wonderful, tannins are perfectly weighted and integrated. A success. 3.75pH. Ageing 18 months, 30% new oak. Eric Boissenot consultant.
Drink 2028-2043
Georgina Hindle, Decanter (April 2023)
About this WINE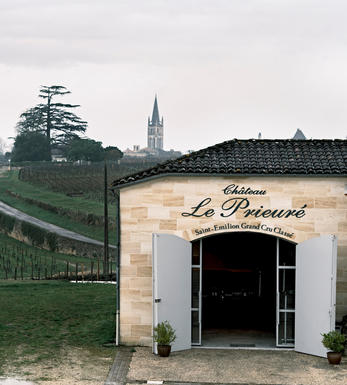 Château Le Prieure, Saint-Emilion
Château Le Prieuré is a Grand Cru Classé estate in the appellation of St Emilion on Bordeaux's Right Bank. Since 2020, Le Prieuré and its sibling properties (Siaurac and Vrai Croix de Gay) have been under the same ownership as Château Calon Ségur. The Suravenir insurance group acquired them from none other than Artémis Domaines, the owner of Château Latour, Clos de Tart and Château-Grillet, among others.
There has been considerable investment here by the successive owners. Much of the 6.24-hectare vineyard sits on St Emilion's limestone plateau, near Château Trotte Vieille, with well-sited parcels dotted elsewhere. The vineyard has been certified organic since 2018; the team follow biodynamic practices in the vineyard.
There is a world-class team in place here. Vincent Millet oversees this and the other Suravenir properties; Technical Director Pénélope Godefroy has been retained by the new owners; and the legendary Jean-Claude Berrouet, long-time winemaker at Petrus, is the consultant.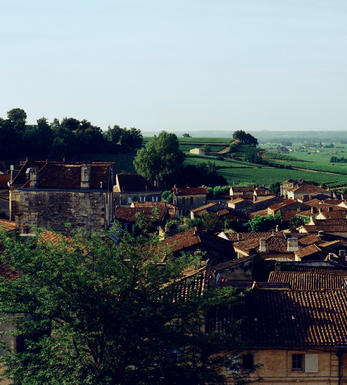 St-Emilion
St Emilion is one of Bordeaux's largest producing appellations, producing more wine than Listrac, Moulis, St Estèphe, Pauillac, St Julien and Margaux put together. St Emilion has been producing wine for longer than the Médoc but its lack of accessibility to Bordeaux's port and market-restricted exports to mainland Europe meant the region initially did not enjoy the commercial success that funded the great châteaux of the Left Bank.
St Emilion itself is the prettiest of Bordeaux's wine towns, perched on top of the steep limestone slopes upon which many of the region's finest vineyards are situated. However, more than half of the appellation's vineyards lie on the plain between the town and the Dordogne River on sandy, alluvial soils with a sprinkling of gravel.
Further diversity is added by a small, complex gravel bed to the north-east of the region on the border with Pomerol. Atypically for St Emilion, this allows Cabernet Franc and, to a lesser extent, Cabernet Sauvignon to prosper and defines the personality of the great wines such as Ch. Cheval Blanc.
In the early 1990s there was an explosion of experimentation and evolution, leading to the rise of the garagistes, producers of deeply-concentrated wines made in very small quantities and offered at high prices. The appellation is also surrounded by four satellite appellations, Montagne, Lussac, Puisseguin and St. Georges, which enjoy a family similarity but not the complexity of the best wines.
St Emilion was first officially classified in 1954, and is the most meritocratic classification system in Bordeaux, as it is regularly amended. The most recent revision of the classification was in 2012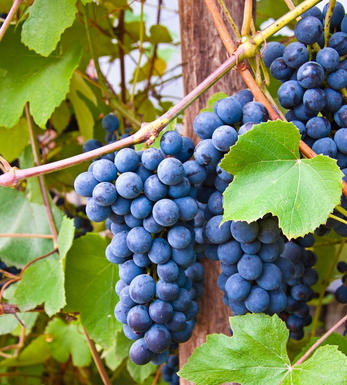 Merlot/Cabernet Franc
Merlot and Cabernet Franc are grape varieties commonly used in Bordeaux-style blends, particularly in the Bordeaux region of France. When these two grapes are blended, they can create a wine that combines the best characteristics of each variety.
Merlot is known for its smoothness, soft tannins, and ripe fruit flavours. It often contributes black cherry, plum, and chocolate flavours to the blend. The grapes are relatively easy to grow and ripen earlier than other Bordeaux varieties, making them versatile for blending.
Cabernet Franc, on the other hand, adds structure, depth, and complexity to the blend. It typically brings aromas of red fruits such as raspberry and strawberry, along with herbal notes like bell pepper and tobacco. These grapes have thinner skins and can be more challenging to cultivate, requiring specific growing conditions to reach their full potential.
When Merlot and Cabernet Franc are combined, the result is a well-balanced wine with various flavours and aromas. The blend often exhibits a Bordeaux wine's medium to full body, along with a smooth texture and moderate tannins. The specific flavour profile can vary depending on the proportions of each grape in the blend and the terroir and winemaking techniques employed.