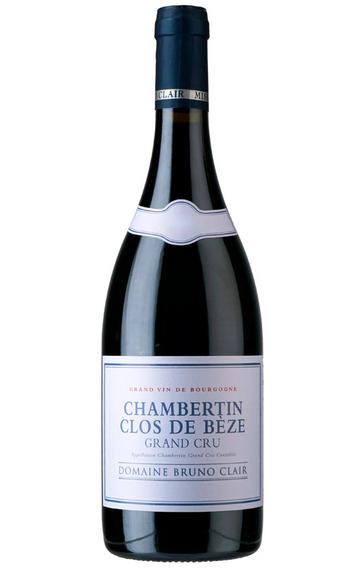 2008 Chambertin, Clos de Bèze, Grand Cru, Domaine Bruno Clair, Burgundy
Prices start from £4,250.00 per case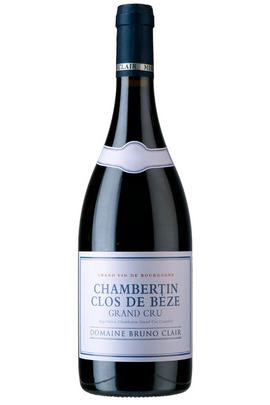 Critics reviews
Discreet wood influence surrounds the intensely spicy and earthy nose that is at once elegant yet animale and this sauvage character extends to the very rich, powerful and well-muscled flavors that possess a seductively textured yet firm finish of imposing length. This is a big but focused Bèze that has already begun to shut down. Patience will be required.
Allen Meadows - burghound.com - Jan 2011
The 2008 Chambertin-Clos de Beze is an intensely floral, cool wine graced with exquisite finesse in its dark red berries, flowers, minerals and menthol. It is naturally less obvious than the 2009, but just as convincing. A textured, sweet and multi-dimensional finish rounds things out in style. The Beze is quite a bit more open than the Bonnes Mares, but it nevertheless needs time, and probably lots of it. Anticipated maturity: 2018-2038.
Antonio Galloni - 02/05/2011
About this WINE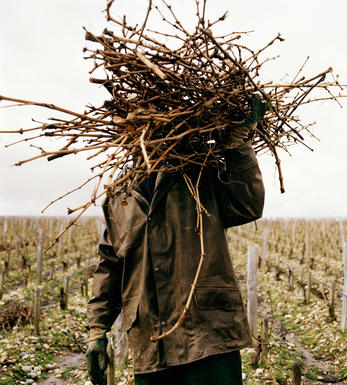 Bruno Clair
Bruno is the grandson of Joseph Clair, originally from Santenay, who fell in love with a girl from Marsannay, Marguerite Daü, while he was stationed at Dijon during World War I.

When Bruno was ready to begin life as a vigneron there were family problems at the domaine, so he began by creating some vineyards of his own, replanting in Marsannay and reclaiming some friche at the top of the slope in Morey-St-Denis. However in the mid-1980s the domaine - less vineyards sold off by one family member to Louis Jadot – was reconstituted with Bruno in charge. He soon recruited a former colleague, Philippe Brun, to work with him in the cellar and the pair have now developed the domaine to its current size of 24 hectares and 24 different wines, made possible when certain contracts with Maison Louis Jadot (Vosne-Romanée, Gevrey-Chambertin-Clos St-Jacques and Chambertin-Clos de Bèze) and Fourgeray de Beauclair (Bonnes Mares) came to an end in 2006.
The grapes are rigorously sorted in the vineyard, then usually destemmed, though some stalks were retained in 2005. The wines are powerful but do not seem over-extracted, even though Philippe Brun is strong proponent of punching down, albeit happy to modify his techniques according to the vintage- so just one pigeage per day in 2007 instead of the usual five or six. While there is a hefty proportion of new oak, a good proportion of the village wines are matured at least for part of their élevage in wooden foudres, to reduce the overt effect of the barrel.

Chambertin-Clos de Bèzes Grand cru Two-thirds of the vines date back to 1912 with the remainder planted in 1972. This is an exceptional wine even by the standards of this great vineyard and will repay significant ageing. The Clair blocks are in the middle of the vineyard with the rows running from top to bottom.

Bonnes Mares Grand Cru This holding, which is on terres blanches in the Morey-St-Denis part of Bonnes Mares, came back from a long lease to Domaine Fougeray de Beauclair in 2006, and there will be more to come later on. The vines of nicely mature, having been planted in 1946 and 1980. It is too early to define the character of a Bruno Clair Bonnes Mares however.

Gevrey-Chambertin 1er Cru Cazetiers Very different in style to the domaine's Clos St-Jacques next door, even though most of the vines were planted at the same time with the same plant material – but there is one big difference: Bruno Clair's holding of Cazetiers is at the top of the slope on white marl, while the Clos St-Jacques rows run from the top to bottom. Though the elevation is reflected in the wine's undoubted minerality, this cuvee tends to be relatively low n acidity and comes round quite quickly. Exceptionally stylish, though.

Gevrey-Chambertin 1er Cru Clos St-Jacques Planted in 1957 and 1972. Only since 1999 has the wine been sold as from Domaine Bruno Clair – before that it was under his mother's name, Domaine G Bartet, though with the same style of label. Despite the immediately sumptuous wealth of red and black fruit, this wine has the power to develop with age to a much greater extent than the Cazetiers.

Savigny-lès-Beaune 1er Cru La Dominode The vineyard dates back to 1902, albeit with replacement of individual vines which have failed to survive. It is remarkably stylish for Savigny and almost seems to possess the refinement of a Côte de Nuits.

Marsannay Longeroies Whereas Clair's Marsannay Grasses Têtes is full-bodied and quite tannic, and his Vaudenelles subtle and elegant, the most complete of the three single-vineyard bottlings is perhaps Les Longeroies, mostly from vines of 70 years old and more, which combines power and finesse. Good vintages will keep very well.

Morey-St-Denis Blanc, En la Rue de Vergy Planted from scratch with Chardonnay in 1981 on scrubland above Bonnes Mares, with virtually no topsoil. The vines seem to grow straight out of the rock. A refreshing, balanced white wine with good acidity.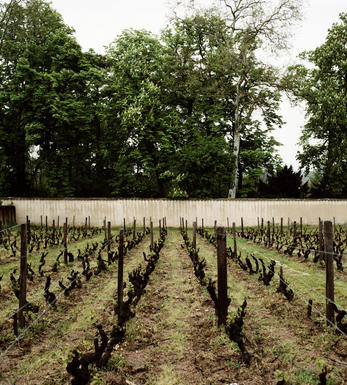 Gevrey Chambertin
Gevrey-Chambertin is the largest wine-producing village in Burgundy's Côte d'Or, with its vineyards spilling over into the next door commune of Brochon.

Located in the far north of the Côtes de Nuits above Morey-St Denis, classic Gevrey-Chambertin is typically deeper in colour, firmer in body and more tannic in structure than most red Burgundy. The best can develop into the richest, most complete and long-lived Pinot Noir in the world. This is largely thanks to the iron-rich clay soils, though much depends on whether the vineyard is located on either the steeper slopes (Evocelles, Clos St Jacques) or the flatter, richer soils (Clos Prieur, Combottes).

Whereas in the past there have been numerous underperformers in Gevrey-Chambertin exploiting the reputation of this famous village and its iconic Grands Crus, today there are many fine sources to choose from, and overall quality is higher than ever.

Gevrey-Chambertin's greatest Grand Cru is named after the field of the monk Bertin (Champ de Bertin). In 1847, Gevrey appended the name of this illustrious vineyard, Chambertin, setting a trend for the other principle villages to follow. Le Chambertin may not be quite as sumptuous as Musigny or Richebourg, or as divinely elegant as La Tâche or Romanée-St Vivant, but it is matched only by the legendary Romanée-Conti for completeness and luscious intensity.

In all, Gevrey boasts an impressive nine Grands Crus, with the name of Chambertin retaining a regal omnipresence throughout its finest vineyard names. The other truly great Grand Cru is Chambertin-Clos de Bèze which has the right to sell its wines simply as 'Chambertin', and is the only wine allowed to put the Chambertin name before, rather than after, its own. Situated slightly further up the hill, the wines are fractionally less powerful yet full of sensual charm and finesse.

Quality-wise the next best are generally acknowledged to be Mazis-Chambertin and Latricières-Chambertin. The former is incredibly concentrated and very fine, but its structure is a little less firm than Le Chambertin. Latricières is less about power (although it can be explosively fruity) and more about an entrancing silkiness.

Situated slightly higher up the slope, Ruchottes-Chambertin is impressively rich, stylish and slightly angular. The tiny Griottes-Chambertin, which owes its name to the grill-pan shape of the vineyard rather than the wine's griotte cherry aroma, is lower down the slope and boasts a velvety texture and rich fruit reminiscent of Chambertin itself. It is generally better than the lighter, although wonderfully fragrant Chapelle-Chambertin and Gevrey's largest Grand Cru, the pure and seductive (if variable) Charmes-Chambertin.

Gevrey also has some outstanding Premier Crus on the south-east-facing slopes above the town. Les Cazetiers and especially Clos St Jacques produce some exceptional wines. Indeed Armand Rousseau, who pioneered domaine bottling here in the 1930s and is still one of the region's very best producers, often sells his Clos St Jacques for more than several of his Grand Crus.

Drinking dates for these wines vary, but Grand Crus are generally best from at least 10 to 25 years, Premier Crus from eight to 20 years, and village wines from five to 12 years.
315 hectares of village Gevrey Chambertin
84 hectares of Premier Cru vineyards (20 in all). The foremost vineyards include Clos St Jacques, Lavaux St Jacques, Combottes, Corbeaux, Cherbaudes, Cazetiers.
55 hectares of Grand Cru vineyards: Chambertin, Chambertin Clos de Bèze, Latricières-Chambertin, Ruchottes-Chambertin, Mazis-Chambertin, Charmes-Chambertin, Mazoyères-Chambertin, Chapelle-Chambertin, Griottes-Chambertin..
Recommended producers: Bachelet, Dugat, Esmonin, Mortet, Rossignol Trapet, Rousseau, Serafin, Bernstein
Recommended restaurants : Chez Guy (good wine list), Rôtisserie du Chambertin (and Bistro)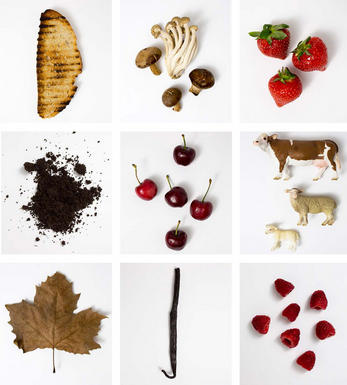 Pinot Noir
Pinot Noir is probably the most frustrating, and at times infuriating, wine grape in the world. However when it is successful, it can produce some of the most sublime wines known to man. This thin-skinned grape which grows in small, tight bunches performs well on well-drained, deepish limestone based subsoils as are found on Burgundy's Côte d'Or.

Pinot Noir is more susceptible than other varieties to over cropping - concentration and varietal character disappear rapidly if yields are excessive and yields as little as 25hl/ha are the norm for some climats of the Côte d`Or.
Because of the thinness of the skins, Pinot Noir wines are lighter in colour, body and tannins. However the best wines have grip, complexity and an intensity of fruit seldom found in wine from other grapes. Young Pinot Noir can smell almost sweet, redolent with freshly crushed raspberries, cherries and redcurrants. When mature, the best wines develop a sensuous, silky mouth feel with the fruit flavours deepening and gamey "sous-bois" nuances emerging.
The best examples are still found in Burgundy, although Pinot Noir`s key role in Champagne should not be forgotten. It is grown throughout the world with notable success in the Carneros and Russian River Valley districts of California, and the Martinborough and Central Otago regions of New Zealand.