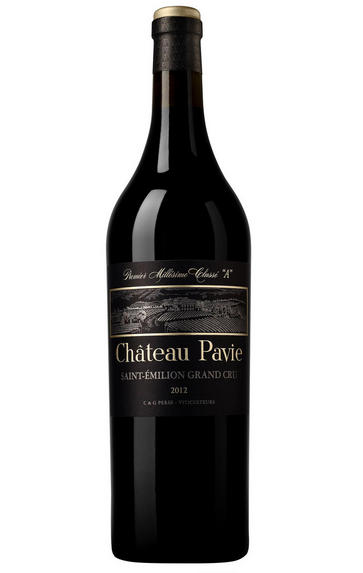 2012 Château Pavie, St Emilion, Bordeaux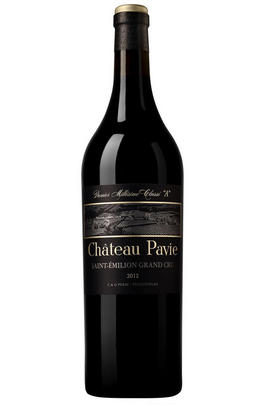 About this WINE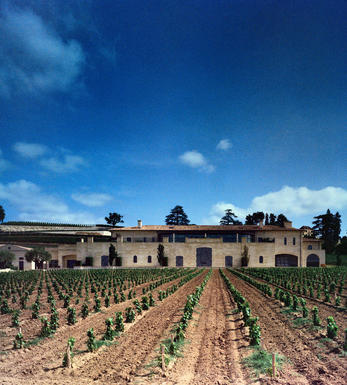 Chateau Pavie
Château Pavie is the largest St.Emilion 1er Grand Cru Classé, with over 35 hectares of vineyards located exclusively on the St-Emilion Côtes. Pavie is situated south-east of the village of St-Emilion and its vineyards lie on a south-facing slope of the famous limestone plateau.
Pavie's vineyards are bordered by those of Château La Gaffelière and Château Pavie-Decesse. For many years the property was owned and run by Jean-Paul Valette. In 1998 Gérard Perse, who also owns Pavie-Decesse and Monbousquet, purchased it.
Pavie's wine is typically a blend of 55% Merlot, 25% Cabernet Franc and 20% Cabernet Sauvignon. Since 1998, the grapes have been fermented in spanking new wooden vats with the wine then being aged in 100% new oak bariques for 18 months. It is bottled unfiltered.
Pavie produces elegant, harmonious and stylish St-Emilions that typically display a fine bouquet with good depth of fruit on the palate. Under the Perse regime Pavie has become richer, more intense and more concentrated.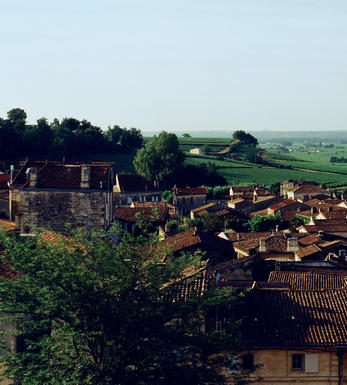 St-Emilion
St Emilion is one of Bordeaux's largest producing appellations, producing more wine than Listrac, Moulis, St Estèphe, Pauillac, St Julien and Margaux put together. St Emilion has been producing wine for longer than the Médoc but its lack of accessibility to Bordeaux's port and market-restricted exports to mainland Europe meant the region initially did not enjoy the commercial success that funded the great châteaux of the Left Bank.
St Emilion itself is the prettiest of Bordeaux's wine towns, perched on top of the steep limestone slopes upon which many of the region's finest vineyards are situated. However, more than half of the appellation's vineyards lie on the plain between the town and the Dordogne River on sandy, alluvial soils with a sprinkling of gravel.
Further diversity is added by a small, complex gravel bed to the north-east of the region on the border with Pomerol. Atypically for St Emilion, this allows Cabernet Franc and, to a lesser extent, Cabernet Sauvignon to prosper and defines the personality of the great wines such as Ch. Cheval Blanc.
In the early 1990s there was an explosion of experimentation and evolution, leading to the rise of the garagistes, producers of deeply-concentrated wines made in very small quantities and offered at high prices. The appellation is also surrounded by four satellite appellations, Montagne, Lussac, Puisseguin and St. Georges, which enjoy a family similarity but not the complexity of the best wines.
St Emilion was first officially classified in 1954, and is the most meritocratic classification system in Bordeaux, as it is regularly amended. The most recent revision of the classification was in 2012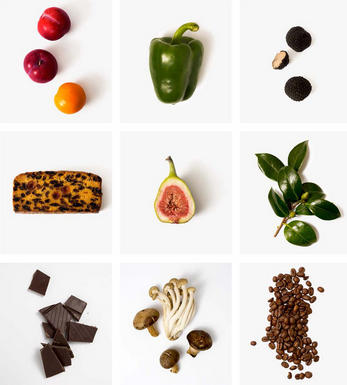 Merlot
The most widely planted grape in Bordeaux and a grape that has been on a relentless expansion drive throughout the world in the last decade. Merlot is adaptable to most soils and is relatively simple to cultivate. It is a vigorous naturally high yielding grape that requires savage pruning - over-cropped Merlot-based wines are dilute and bland. It is also vital to pick at optimum ripeness as Merlot can quickly lose its varietal characteristics if harvested overripe.
In St.Emilion and Pomerol it withstands the moist clay rich soils far better than Cabernet grapes, and at it best produces opulently rich, plummy clarets with succulent fruitcake-like nuances. Le Pin, Pétrus and Clinet are examples of hedonistically rich Merlot wines at their very best. It also plays a key supporting role in filling out the middle palate of the Cabernet-dominated wines of the Médoc and Graves.
Merlot is now grown in virtually all wine growing countries and is particularly successful in California, Chile and Northern Italy.
Critics reviews
Antonio Galloni, Vinous
95
Jancis Robinson MW
17.5+/20
The 2012 Pavie celebrates its reclassification and upgrade to Class A St.-Emilion by sporting a new black label with gold print. Fortunately, every Pavie has benefitted since Perse began a complete makeover of this estate in 1998. From 47-year-old vines, the 2012 has an inky purple color, judicious toasty oak in the nose interwoven with copious blackberry and blackcurrant fruit, Christmas spices, as well as licorice and graphite. Full-bodied, rich and moderately tannic, it will require 5-7 years of bottle age but should drink well for 20-30 years. Kudos to Chantal and Gerard Perse for their extraordinary commitment to quality, which is so evident in this more challenging vintage than some of the great years like 2009 and 2010. Very low yields of 28 hectoliters per hectare were obtained from this 92-acre estate.
Robert M. Parker, Jr. - 30/04/2015
Antonio Galloni, Vinous
95
The 2012 Pavie has been impressive on the two occasions I have tasted it so far. Exotic scents of graphite, smoke, new leather and dark fruit open up first. Deep, intense and rich, especially within the context of the year, the 2012 finds greater finesse and nuance with time in bottle. Pavie is a rare 2012 that is going to require time in bottle, as the tannins are imposing at this early stage. I imagine the 2012 will be divine in another few years. Even today, it is exceptionally well-balanced and harmonious in the modern-day flamboyant Pavie style. The 2012 is 60% Merlot, 25% Cabernet Franc and 15% Cabernet Sauvignon that spend 28 months in barrel."
Antonio Galloni , Vinous.com (January 2016)

Jancis Robinson MW
17.5+/20
Deepest inky purple crimson. Black core. Finely aromatic black fruit. But so concentrated that the aroma is suppressed for now. Tightly packed, dry, fine grained, no hardness even though there's obviously plenty of extraction. Deep, dark and impressive and takes no prisoners. Put it away for some time. Plenty of chewy tannins but they envelop good fruit. Not my style but there is a harmony within that power. There is a minerality but it is expressed more as graphite because of the intensity of the wine and fruit and in the nicely dry tannin texture. Fresh enough but the freshness too is hard to find in the concentration.
Julia Harding MW, jancisrobinson.com, 26 Apr 2013
Lots of beautiful aromas of roses, dark fruits and dark chocolate. Full and chewy with beautiful firm tannins and that add to the long finish. Very intense. Very fine tannins. Very, very long. 70% Merlot, 20% Cabernet Franc, and 10% Cabernet Sauvignon.
The full-bodied, opaque purple-hued 2012 exhibits a beautiful nose of mulberries, black cherries, cedar wood, high quality toasty oak, lead pencil shavings, crushed chalk and floral notes. This complex, authoritative, full-throttle Pavie possesses much more accessibility and precociousness than most vintages. It is another brilliant effort from proprietors Chantal and Gerard Perse. It should be drinkable in 8-10 years and last for three decades.

From 47-year-old vines, Pavie, one of the largest estates in St.-Emilion (92 acres), has once again hit pay dirt with their 2012 Pavie. Yields were 28 hectoliters per hectare (which is slightly above the 26 hectoliters per hectare in 2010), and the harvest was exceptionally late. The tannins may be the sweetest of any young Pavie I have tasted since the 2001 (which the 2012 vaguely resembles).
Robert Parker - Wine Advocate #206 - Apr 2013
Powerful style as always. A touch less full throttle than the 2011. Reserved but intense nose. Dark fruit notes. Good acidity and freshness. Firm, long, persistent finish.
James Lawther MW, Decanter, April 2013