About this WINE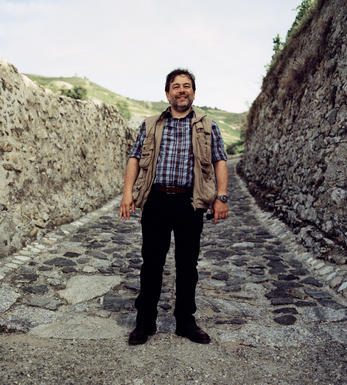 Maison Chapoutier
Chapoutier now produces the most diverse and complex wines to be found in the northern Rhône. Since Michel Chapoutier took control of this long-established firm in 1988, quality has soared.

All the vineyards are now run on biodynamic principles and now all the grapes in Hermitage and Châteauneuf du Pape are totally destemmed prior to fermentation. Previously, Chapoutier wines were criticised for the length of time they spent in old wood - Michel Chapoutier has thrown out the old chestnut foudres and now the wines spend a maximum of 18 months in small oak casks, up to a third of which are new. Chapoutier's wines are bottled unfined and unfiltered to help preserve their character.

Crucial to Michel Chapoutier's philosophy is the production of "téte de cuvées", which include La Mordorée made from 60 year old vines on the Côte Blonde and Hermitage La Pavillon from 70 year old vines at the base of Les Bessards. Michel Chapoutier first produced Hermitage Vin de Paille in 1990 and it is by far the finest sweet wine produced in the Rhône Valley.

The Chapoutier Sélections Parcellaires are some of the most celebrated and rare wines in the entire Rhône Valley, their precisely delineated provenance providing the ultimate celebration of the concept of terroir, most importantly the terroir of the Hill of Hermitage. These single vineyard Hermitage wines are identified by the ancient name of 'Ermitage'.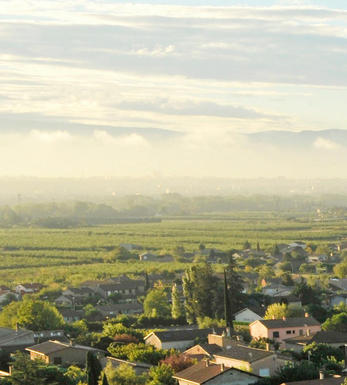 Châteauneuf-du-Pape
Châteauneuf-du-Pape is the largest and most important wine appellation in the southern Rhône. It is home to more than 3,200 hectares of vineyards and over 80 growers; more wine is produced in Châteauneuf than the whole of the northern Rhône put together. The vineyards are bounded to the west by the Rhône river and to the east by the A7 autoroute.

Châteauneuf-du-Pape was the first ever Appellation d'Origine Contrôlée established in France, in 1932. Small, rounded rocks from the ancient river bed known as galets roulés are a key aspect of what makes Châteauneuf -du-Pape wines so distinctive, with the rocks reflecting heat back into the vines at night, thus increasing ripeness and reducing acidity.

The gloriously rich red wines, redolent of the heat and herbs of the south, are enhanced by the complexity which comes from blending several grape varieties. Fourteen are permitted for reds: Grenache, Mouvedre, Syrah, Cinsault, Vaccarese, Counoise, Teret Noir, Muscadin, Picpoul Noir, Clairette, Grenache Blanc, Rousanne, Picpoul Gris and Picardin. With red Châteauneuf-du-Pape, Grenache typically dominates with Syrah and Mourvèdre in support.
White Châteauneuf-du-Pape is becoming increasingly sought-after, even though it represents less than 10 percent of the total production. Here, five grapes are permitted: Grenache Blanc, Clairette, Roussanne, Bourboulenc and Picardin.

Recommended Producers: Château de Beaucastel, Clos de Papes, Vieux Télégraphe, Château Rayas,, Domaine de la Charbonnière, Sabon, Château La Nerthe, Domaine Perrin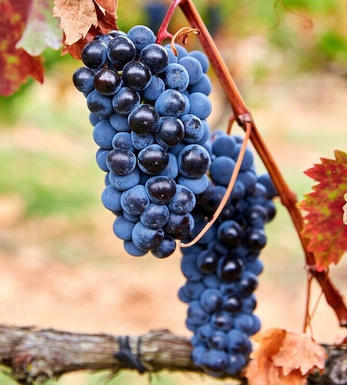 Southern Rhône Blend
The vast majority of wines from the Southern Rhône are blends. There are 5 main black varieties, although others are used and the most famous wine of the region, Châteauneuf du Pape, can be made from as many as 13 different varieties. Grenache is the most important grape in the southern Rhône - it contributes alcohol, warmth and gentle juicy fruit and is an ideal base wine in the blend. Plantings of Syrah in the southern Rhône have risen dramatically in the last decade and it is an increasingly important component in blends. It rarely attains the heights that it does in the North but adds colour, backbone, tannins and soft ripe fruit to the blend.
The much-maligned Carignan has been on the retreat recently but is still included in many blends - the best old vines can add colour, body and spicy fruits. Cinsault is also backtracking but, if yields are restricted, can produce moderately well-coloured wines adding pleasant-light fruit to red and rosé blends. Finally, Mourvèdre, a grape from Bandol on the Mediterranean coast, has recently become an increasingly significant component of Southern Rhône blends - it often struggles to ripen fully but can add acidity, ripe spicy berry fruits and hints of tobacco to blends.