2016 Côte de Brouilly, Les Sept Vignes, Château Thivin, Beaujolais
Prices start from £260.00 per case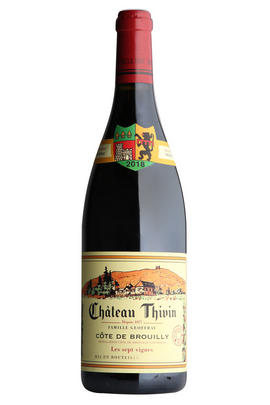 About this WINE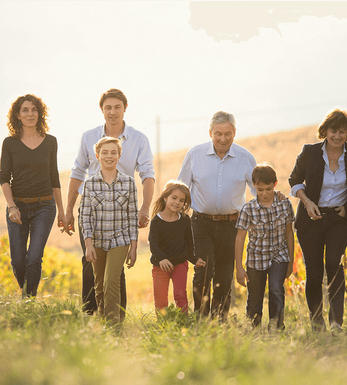 Chateau Thivin
Château Thivin is based in the Côte de Brouilly, one of the smallest of the 10 Beaujolais Crus. The appellation is distinctive for its volcanic soils and early ripening fruit. Each of the estate's 10 plots occupies a different aspect around the steep hill of Côte de Brouilly. From these, they produce a number of brilliantly crafted single-vineyard cuvées, as well as a blend which very successfully combines the characteristics of each. Each cuvée showcases the personality of its terroir. All bring a freshness, structure and concentration that make them both attractive in youth, and seriously worthy of ageing.
Ch. Thivin has been owned by the Geoffray family since 1877. It is today in the hands of fifth-generation Claude and Evelyne, their son Claude-Edouard and their daughter-in-law Sonia.
Their 27 hectares of vines are grown across more than 10 distinct plots in the Côte de Brouilly. There's also one in the appellation of Brouilly, and another about 20 kilometres to the south, in Theizé, specifically for Chardonnay. They produce at least five single-vineyard cuvées each vintage, as well as their flagship blend of seven of their parcels, Sept Vignes.
The estate's vines are grown in each of the appellation's three signature soil types: the blue volcanic rock of Mont Brouilly and the granite of the surrounding slopes, both largely planted to Gamay; and clay/limestone soils, where Chardonnay is grown. Grasses are encouraged to grow between crops to encourage microbiological activity. This also guards against the threat of erosion posed by the very steep slopes of crumbly, well-draining soil. Vines range in age from 15 to 80 years. The aim here is for yields of about 40-45 hectolitres per hectare, with a maximum of 48.
The winery is built on the hillside. This allows it a succession of levels that make use of gravity for gentle handling of the wines. Grapes are sorted in the vineyard and again in the winery, and each parcel is vinified separately in cement cuves.
The team do not practice carbonic maceration, though up to two-thirds of the fruit may be fermented in whole bunches depending on the vintage. Wines are aged in foudres for at least six months, and up to 12 months for some cuvées.
Ch. Thivin's viticulture is certified by Terra Vitis, which promotes sustainable farming methods and healthy soils. They are in the process of organic conversion.
For many years, they have used no chemicals in their vineyards, grown grass between the vines, relied on a flock of pygmy sheep to control the grass in winter. They also deploy some biodynamic practices, such as bottling at the full moon.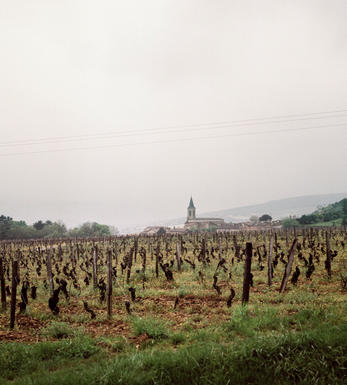 Brouilly
Brouilly is the largest and most southerly of the ten Beaujolais Crus as well as also being one of the few not to be named after a local village. Its 1200ha of vineyards curl round the volcanic Mont Brouilly, producing fruity, round, textured wines which can be reasonably tannic and often show earthy notes.
Most should be drunk in 3-4 years but the most age-worthy styles from top producers in top vintages can last up to a decade. It is also the only Cru, along with its sister appellation Côte de Brouilly, to allow grapes other than Gamay to be planted – in this case Chardonnay, Aligoté and Melon de Bourgogne – although few choose to take advantage.
Recommended Producers: Dubost, Alain Michaud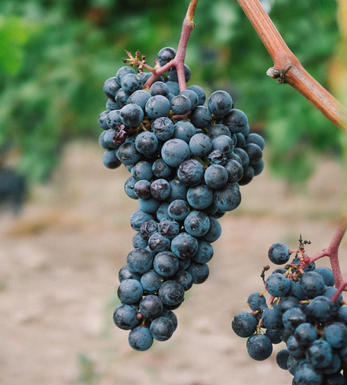 Gamay
A French variety planted predominately in Beaujolais where it is the grape behind everything from light and often acidic Beaujolais Nouveau through to the more serious and well-structured wines from the 10 cru villages. It takes its name from a hamlet just outside Chassagne-Montrachet and was at one stage widely planted on the Côte d`Or. However it was gradually phased out due to its poor yield and supposed poor quality of its wines.
The majority of Gamay wines in Beaujolais are labelled as Beaujolais or Beaujolais-Villages and are deliciously juicy, easy drinking, gulpable wines. Of more interest are the Cru wines from the 10 villages in the north of the region where the soil is predominantly granitic schist and where the vines are planted on gently undulating slopes. These can be well-structured, intensely perfumed wines, redolent of ripe black fruits and, while delicious young, will reward medium term cellaring.

Gamay is also grown in the Touraine region of the Loire where it produces soft, well-balanced, gluggable wines for drinking young.