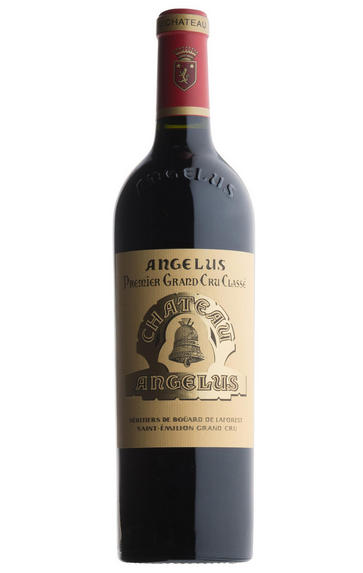 2021 Château Angélus, St Emilion, Bordeaux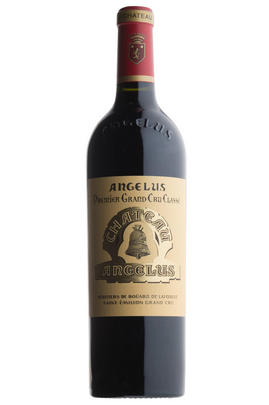 Critics reviews
Neal Martin, Vinous
93-95/100
The 2021 Angélus contains 60% Cabernet Franc, the highest percentage ever, and also reflects an increasing use of wooden foudres (half the Cabernet Franc or 30% of the whole blend). It has a more understated bouquet compared to the bravura vintages of the last three years, demanding gentle coaxing to reveal scents of brambly black fruit, potpourri, hints of orange pith and a little sous-bois. The palate is medium-bodied with fine-grained tannins, and quite sapid, the Cabernet Franc lending a slightly more chalky texture and a linear, focused finish. Displaying fine tension throughout, though not astoundingly long, this Angelus deserves 4–5 years in bottle to show its true potential.
Neal Martin, vinous.com, (May 2022) Read more
Lisa Perrotti-Brown MW
94-96/100
Composed of 60% Cabernet Franc and 40% Merlot, the 2021 Angelus is deep garnet-purple in color. Slightly closed to begin, considerable coaxing reveals scents of redcurrant jelly, black raspberries, and fresh blackberries with suggestions of crushed rocks, tar, truffles, and violets. Medium-bodied, the palate has fantastic intensity and energy, with very finely pixelated tannins and wonderful tension, finishing on a persistent ferrous note.

Lisa Perrotti-Brown, The Wine Independent (May 2022)
This is well textured, plush raspberry and damson fruits, a sleight of hand that turns the high acidities into mouth-watering juice, with waves of graphite, pencil lead, saffron, smoked caramel and cigar box. The highest amount of Cabernet Franc on record at Angélus, largely because so much Merlot was lost to mildew. First full vintage where Benjamin Laforet is technical director, working alongside Hubert de Bouard. It's serious, takes its time to open, far less exuberant than the past few vintages at Angélus but classy and with presence. They are labelling this Premier Grand Cru Classé A, despite withdrawing from the 2022 classification when the selection process was already underway, and underlines why it's a loss to the ranking not to have Angélus within in. 23hl/h yield, no chaptilisation on the 1st wine, 100% new oak barrels + 30hl oak casks for the Cabernet Franc.
Drink 2027 - 2042
Jane Anson, janeanson.com (May 2022) Read more
A brilliant wine that signposts this estate's evolution under Stéphanie de Boüard-Rivoal, the 2021 Angélus is a blend of 60% Cabernet Franc and 40% Merlot, with fully half of the old-vine Cabernet Franc maturing in foudres rather than 225-liter barriques. The result is a wine of unprecedented purity and finesse, unwinding in the glass with compelling aromas of plums, raspberries, rose petals, vine smoke, blood orange and warm spices, followed by a medium to full-bodied, deep and layered palate with a rich and fleshy core that entirely conceals its structuring chassis of ultra-refined tannins. Bright and sapid, it's striking for its integration and elegance at this early stage, and I wouldn't be surprised to see it upstage a number of more touted vintages once it's in bottle.
William Kelley, Wine Advocate (Apr 2022) Read more
60% Cabernet Franc, 40% Merlot. First time with this much Cabernet Franc in the blend. 23 hl/ha. Cask sample. Dark, bright hue. Discreet floral aromas. Big tannic frame with a chunk of polished tannins. Long and digeste but very embryonic, the oak still apparent. Hopefully the fruit will continue to match the structure.
James Lawther, jancisrobinson.com (May 2022) Read more
About this WINE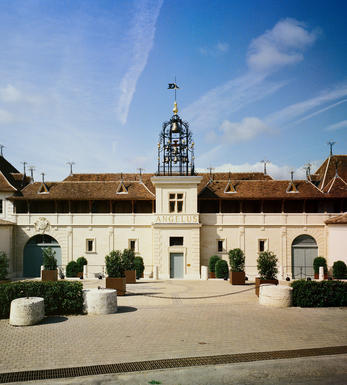 Château Angélus
Château Angélus is one of the largest and most prestigious estates in St Emilion. It was promoted to Premier Grand Cru Classé A status in the 2012 reclassification. The de Boüard family has made wine here since 1782. The estate is now run by eighth-generation Stéphanie de Boüard-Rivoal, who took over from her father, Hubert de Boüard de Laforest, and uncle, Jean-Bernard Grenié, in 2012. It is located in centre-west of the St Emilion appellation, due west of the medieval town.
Angélus's 39 hectares of vineyards are situated less than a kilometre away from the famous St Emilion steeple. The site enjoys a perfect southerly-exposed slope. Cabernet Franc is grown at the bottom, where the soils are sandier and warmer; Merlot is grown in the limestone-rich clay soils at the top of the slope.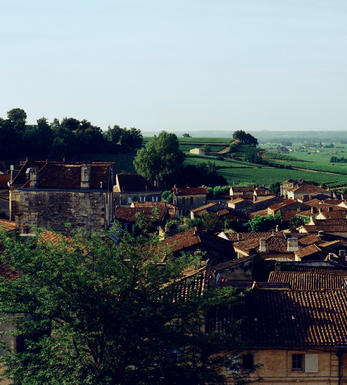 St-Emilion
St Emilion is one of Bordeaux's largest producing appellations, producing more wine than Listrac, Moulis, St Estèphe, Pauillac, St Julien and Margaux put together. St Emilion has been producing wine for longer than the Médoc but its lack of accessibility to Bordeaux's port and market-restricted exports to mainland Europe meant the region initially did not enjoy the commercial success that funded the great châteaux of the Left Bank.
St Emilion itself is the prettiest of Bordeaux's wine towns, perched on top of the steep limestone slopes upon which many of the region's finest vineyards are situated. However, more than half of the appellation's vineyards lie on the plain between the town and the Dordogne River on sandy, alluvial soils with a sprinkling of gravel.
Further diversity is added by a small, complex gravel bed to the north-east of the region on the border with Pomerol. Atypically for St Emilion, this allows Cabernet Franc and, to a lesser extent, Cabernet Sauvignon to prosper and defines the personality of the great wines such as Ch. Cheval Blanc.
In the early 1990s there was an explosion of experimentation and evolution, leading to the rise of the garagistes, producers of deeply-concentrated wines made in very small quantities and offered at high prices. The appellation is also surrounded by four satellite appellations, Montagne, Lussac, Puisseguin and St. Georges, which enjoy a family similarity but not the complexity of the best wines.
St Emilion was first officially classified in 1954, and is the most meritocratic classification system in Bordeaux, as it is regularly amended. The most recent revision of the classification was in 2012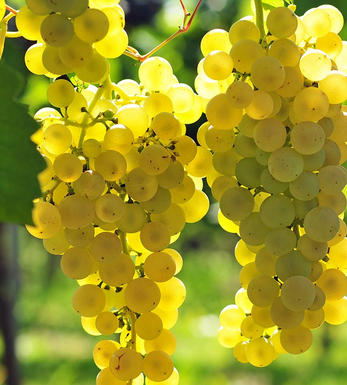 Chasselas
A white grape variety that is believed to have originated in Egypt. It takes its name from a village in the Saone-et-Loire departement where it is grown to produce Pouilly-sur-Loire. It is widely planted around the world though more often as a table grape than for wine production.
In Germany it is known as Weisser Gutedel, and in France is often known as Chasselas de Moissac. It is the most widely planted variety in Switzerland where it is known as Fendant.
It was first planted in Alsace in the 17th century and is generally blended with other grapes and sold as Edelzwicker. The authorities are not keen on the grape and have banned any new plantings. It is a relatively easy variety to cultivate although its naturally high vigour means it is not suited to very dry and very fertile soils.