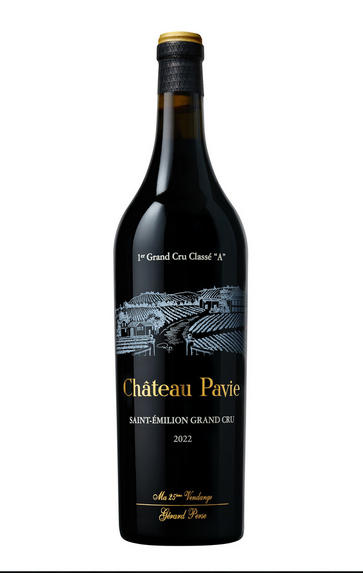 2022 Château Pavie, St Emilion, Bordeaux
Prices start from £1,230.00 per case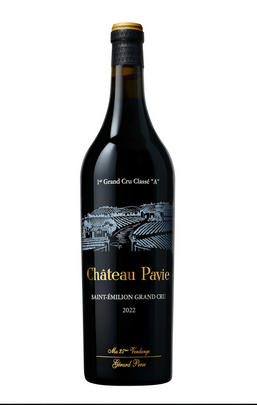 Critics reviews
Neal Martin, Vinous
93-95/100
The 2022 Pavie was picked from 19 September to 1 October at 31hL/ha and matured in 75% new oak. The estate now comprises 42 hectares as it has absorbed Pavie-Decesse and Bellevue-Mondotte; these names are no more. 
This demonstrates a little over-ripeness on the nose: macerated black cherries, kirsch, cassis and a touch of fresh prune. Does that translate across onto the palate? Actually, no. It is undoubtedly decadent and rich but retains balance and delivers a velvety texture with mouth-filling tannins. Powerful yet undeniably harmonious, it feels plush and luxuriant on the finish, with dark chocolate lingering on the aftertaste. 
I am intrigued to revisit this after bottling, and because of the aromatics and not the palate, I err on the side of caution, though repouring; it feels slightly fresher. 14.47% alcohol. NB It comes in a specially-designed engraved bottle without a label.
Drink 2030 - 2065
Neal Martin, Vinous.com (April 2023)
Antonio Galloni, Vinous
94-96/100
The 2022 Pavie is a unique wine that celebrates several milestones for the château. It marks the 20th anniversary of Pavie under the helm of Gerard and Chantal Perse, who have taken this once sleepy property to brilliant highs. Two thousand twenty-two is also the first vintage for Pavie since the incorporation of the Pavie Decesse and Bellevue Mondotte properties. 
From my perspective, it is always sad to see the loss of historical estates, even relatively small, because it is a loss of culture. In terms of the wine, it is superb. Black fruit, mocha, chocolate, liquorice and spice add to an impression of virile intensity. Many recent vintages of Pavie have hinted towards a more vibrant style, but the 2022 is very strongly marked by the heat and drought of the year, the yields that are lower than typical and the harvest that started late in relative terms. 
I think the 2022 is a bit pushed, at least today. Huge tannins and a strong torrefaction oak imprint need time to soften, which may or may not happen with élevage.
Drink 2030 - 2052
Antonio Galloni, Vinous.com (April 2023)
Lisa Perrotti-Brown MW
97-99+/100
The 2022 Pavie is a blend of 52% Merlot, 30% Cabernet Franc, and 18% Cabernet Sauvignon with a pH of 3.67. Yields were 31 hl/ha. Deep garnet-purple in colour, it erupts from the glass with powerful notes of juicy blackberries, black currant pastilles, and wild blueberries, followed by classic hints of violets, liquorice, red loam, wood smoke, and crushed rocks. 
The full-bodied palate delivers fantastic tension between the intense, muscular black fruit flavours and a lively backbone framed by beautifully ripe, rounded tannins, finishing long and fragrant. Superb.
Drink 2030 - 2063
Lisa Perrotti-Brown MW, The Wine Independent (May 2023)
Wonderfully intense and concentrated, this is an impressive Pavie, muscular, intense and well-constructed. It has an exuberance to the aromatics that are striking, with incense, baked damson, milk chocolate and creamy black cherry fruits, almost overwhelming until the limestone fingerprints hit in the mid-palate to add tension and salinity, even a hint of savoury freshness. 
Powerful, it will take the whole ten years to come around. 75% new oak. Buno Lacoste consultant. First-year with the inclusion of Pavie Decesse and Bellevue-Mondotte, bringing it to 42ha, the biggest fully classified footprint, with 30ha on the plateau. Harvest 19 to October 1. 10th anniversary of classification and 25th harvest of Gerard Perse.
Drink 2030 - 2050
Jane Anson, JaneAnson.com (May 2023)
52% Merlot, 30% Cabernet Franc, 18% Cabernet Sauvignon. Includes parcels from Chx Bellevue Mondotte and Pavie Decesse integrated with the 2022 classification. Cask sample. 
Deep purple-black colour to the rim. Lovely depth of fruit – raspberry coulis with a stony freshness. Sapid and savoury on the palate, the tannins muscular, but the texture smooth and fine. Tight and firm on the finish, a saline note highlighting the terroir. Powerful but controlled. Built for the ages.
Drink 2032 - 2055
James Lawther MW, JancisRobinson.com (May 2023)
Intense aromas of cherries and spices. Full and layered without being heavy. It starts large and rich, but the tension and tannins tighten down. It's structured and powerful. Velvety, edgy tannins. Very salty at the end. Like an unpolished diamond. 
It now includes Pavie Decesse and Bellevue. Slightly overdone, but wait and see. 52% merlot, 30% cabernet franc and 18% cabernet sauvignon.
James Suckling, JamesSuckling.com (April 2023)
Ripe and expressive on the nose, clearly concentrated with opulent aromas but also so much florality - roses, irises and violets with bitter orange peel, chocolate and flint. Smooth and supple, filling and round, this has depth and real tension giving a push-pull between density and direction. 
The tannins are fine and have bite and flesh - the generous Merlot with more structured Cabernet are now fighting each other for dominance. Layered and multifaceted with juice and balancing acidity. Feels well-made and deep, with both freshness and power. It's refined, if not totally elegant, as it has heft, strength and muscles. Characterful and stylish.
3.67pH. Acidity 3.71. A yield of 31hl/ha. The 25th vintage of Gerard Perse at Pavie and the 10th anniversary of being a Premier Grand Cru Classé A estate. 2022 is the first year to incorporate Pavie-Decesse and Bellevue-Mondotte into the blend. Harvest 19 September - 1 October - the same dates as 2020. Ageing 75% new oak, 25% one-year-old barrels.
Drink 2029 - 2050
Georgina Hindle, Decanter.com (April 2023)
Released in a special bottle to celebrate the 25th harvest of Gerard Perse, the 2022 Château Pavie checks in as 52% Merlot, 30% Cabernet Franc, and 18% Cabernet Sauvignon, which is in line with recent vintages, although one crucial factor is that both Pavie Decesse and Bellevue Mondot will no longer be produced and will are now incorporated into the Château Pavie. Given the quality of those two releases, I don't see that affecting the quality of the Grand Vin.
The 2022 sports a deep, saturated purple hue and a gorgeous bouquet of ripe cassis, blackcurrants, espresso roast, violets, and chalky minerality. Hitting the palate with full-bodied richness, it has a layered, opulent mouthfeel, velvety tannins, integrated oak, and an excellent finish.
This is another heavenly Pavie that's going to shine with just 5-7 years of bottle age and evolve for 30-40 years or more.
Jeb Dunnuck, JebDunnuck.com (May 2023)
About this WINE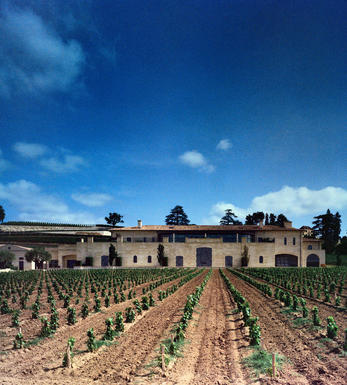 Chateau Pavie
Château Pavie is the largest St.Emilion 1er Grand Cru Classé, with over 35 hectares of vineyards located exclusively on the St-Emilion Côtes. Pavie is situated south-east of the village of St-Emilion and its vineyards lie on a south-facing slope of the famous limestone plateau.
Pavie's vineyards are bordered by those of Château La Gaffelière and Château Pavie-Decesse. For many years the property was owned and run by Jean-Paul Valette. In 1998 Gérard Perse, who also owns Pavie-Decesse and Monbousquet, purchased it.
Pavie's wine is typically a blend of 55% Merlot, 25% Cabernet Franc and 20% Cabernet Sauvignon. Since 1998, the grapes have been fermented in spanking new wooden vats with the wine then being aged in 100% new oak bariques for 18 months. It is bottled unfiltered.
Pavie produces elegant, harmonious and stylish St-Emilions that typically display a fine bouquet with good depth of fruit on the palate. Under the Perse regime Pavie has become richer, more intense and more concentrated.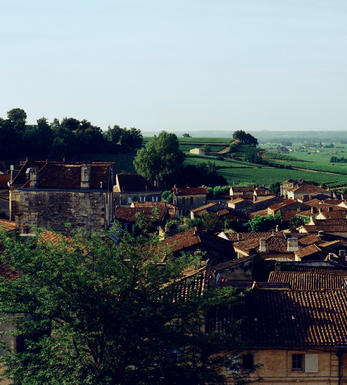 St-Emilion
St Emilion is one of Bordeaux's largest producing appellations, producing more wine than Listrac, Moulis, St Estèphe, Pauillac, St Julien and Margaux put together. St Emilion has been producing wine for longer than the Médoc but its lack of accessibility to Bordeaux's port and market-restricted exports to mainland Europe meant the region initially did not enjoy the commercial success that funded the great châteaux of the Left Bank.
St Emilion itself is the prettiest of Bordeaux's wine towns, perched on top of the steep limestone slopes upon which many of the region's finest vineyards are situated. However, more than half of the appellation's vineyards lie on the plain between the town and the Dordogne River on sandy, alluvial soils with a sprinkling of gravel.
Further diversity is added by a small, complex gravel bed to the north-east of the region on the border with Pomerol. Atypically for St Emilion, this allows Cabernet Franc and, to a lesser extent, Cabernet Sauvignon to prosper and defines the personality of the great wines such as Ch. Cheval Blanc.
In the early 1990s there was an explosion of experimentation and evolution, leading to the rise of the garagistes, producers of deeply-concentrated wines made in very small quantities and offered at high prices. The appellation is also surrounded by four satellite appellations, Montagne, Lussac, Puisseguin and St. Georges, which enjoy a family similarity but not the complexity of the best wines.
St Emilion was first officially classified in 1954, and is the most meritocratic classification system in Bordeaux, as it is regularly amended. The most recent revision of the classification was in 2012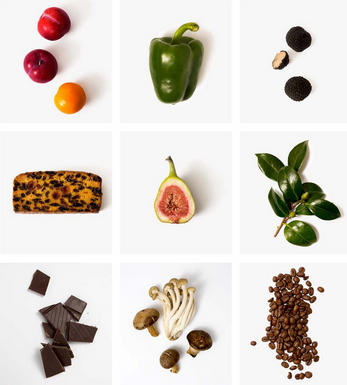 Merlot
The most widely planted grape in Bordeaux and a grape that has been on a relentless expansion drive throughout the world in the last decade. Merlot is adaptable to most soils and is relatively simple to cultivate. It is a vigorous naturally high yielding grape that requires savage pruning - over-cropped Merlot-based wines are dilute and bland. It is also vital to pick at optimum ripeness as Merlot can quickly lose its varietal characteristics if harvested overripe.
In St.Emilion and Pomerol it withstands the moist clay rich soils far better than Cabernet grapes, and at it best produces opulently rich, plummy clarets with succulent fruitcake-like nuances. Le Pin, Pétrus and Clinet are examples of hedonistically rich Merlot wines at their very best. It also plays a key supporting role in filling out the middle palate of the Cabernet-dominated wines of the Médoc and Graves.
Merlot is now grown in virtually all wine growing countries and is particularly successful in California, Chile and Northern Italy.