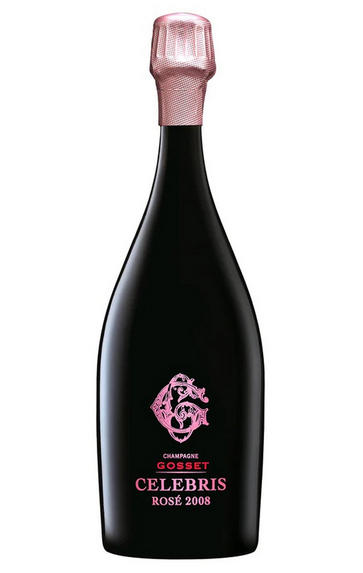 2008 Champagne Gosset, Célébris, Rosé, Extra Brut
Prices start from £160.00 per bottle (75cl).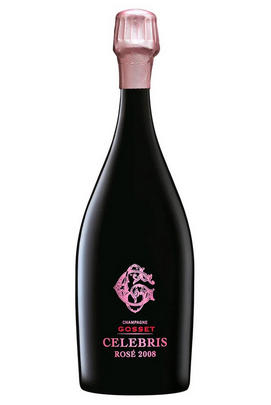 Critics reviews
The skillfully crafted Gosset Champagnes remain in good hands with the current cellar master Odilon de Varine, as evidenced by this fascinating rosé Champagne. Over the past 25 years, the vintage rosé version of this Celebris cuvée has been released only for the 1998, 2003, 2007 and 2008 vintages. 
Produced from a blend of grand cru Chardonnay and Pinot Noir with a dosage of 5g/L. The complex bouquet is redolent with delicious pastry notes of the famous pink biscuit of Reims and ripe blackberries. On the palate, this is a powerful, densely textured but beautifully balanced Champagne that merits cellaring for several years for it to come completely into focus.
Drink 2021 - 2030
Yohan Castaing, Decanter.com (December 2021)
About this WINE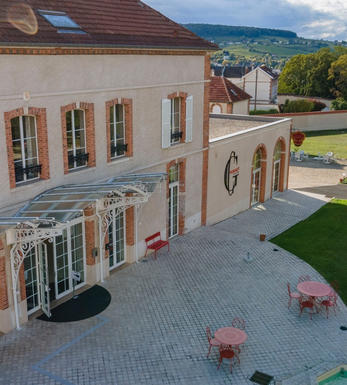 Gosset
Gosset is the oldest wine-producer in Champagne, with a history stretching back to 1584 – when red, rather than sparkling wines were the region's calling card.

Situated in the tiny Grand Cru village of Aÿ, five kilometres from Epernay, quality-focused Gosset has some rather famous neighbours, including Bollinger; its production, however, is much below that of the larger Houses, at around 1.3 million bottles (Moët & Chandon, for comparison, makes close to 30 million).

Gosset crafts truly artisan and gastronomic Champagnes, wines which are often seen in Michelin-star restaurants across the world. Newly appointed Chef de Caves Odilon de Varine (who took over in 2016) carries on the hallmark style of the House: extended aging "sur lees" in the cellars gives the wines extra richness and complexity in the finished glass, while the wines often don'tt undergo malolactic fermentation, to preserve the wines' acidity and freshness. The results tend to be very creamy, dry and full, with rich, biscuit notes, framed by a trademark mineral freshness.

The House produces a range of different wines, including a range of non-vintage bottlings: the House's flagship multi-vintage blend Grande Réserve, its Blanc de Blancs and Rosé. As for vintage wines, its Grand Millésime is joined by the "prestige" Celebris cuvées, which are only produced in the very best years.

Today the House is owned by the Renaud-Cointreau group, a family firm that also owns Cognac Frapin.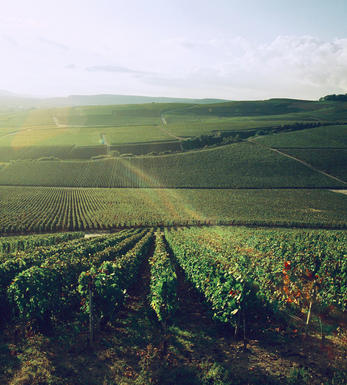 Rosé Champagne
Rosé wines are produced by leaving the juice of red grapes to macerate on their skins for a brief time to extract pigments (natural colourings). However, Rosé Champagne is notable in that it is produced by the addition of a small percentage of red wine – usually Pinot Noir from the village of Bouzy – during blending.
Recommended Producers : Billecart Salmon (Elizabeth Salmon Rose), Ruinart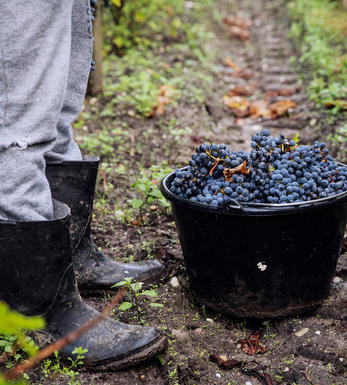 Champagne blend
Which grapes are included in the blend, and their proportion, is one of the key factors determining the style of most Champagnes. Three grapes are used - Pinot Noir, Chardonnay and Pinot Meunier.

26% of vineyards in Champagne are planted with Chardonnay and it performs best on the Côtes des Blancs and on the chalk slopes south of Epernay. It is relatively simple to grow, although it buds early and thus is susceptible to spring frosts. It produces lighter, fresher wines than those from Burgundy and gives finesse, fruit and elegance to the final blend. It is the sole grape in Blancs de Blancs, which are some of the richest long-lived Champagnes produced.
Pinot Noir accounts for nearly 40% of the plantings in Champagne and lies at the heart of most blends - it gives Champagne its body, structure, strength and grip. It is planted across Champagne and particularly so in the southern Aube district.
The final component is Pinot Meunier and this constitutes nearly 35% of the plantings. Its durability and resistance to spring frosts make the Marne Valley, a notorious frost pocket, its natural home. It ripens well in poor years and produces a soft, fruity style of wine that is ideal for blending with the more assertive flavours of Pinot Noir. Producers allege that Pinot Meunier lacks ageing potential, but this does not deter Krug from including around 15% of it in their final blends.