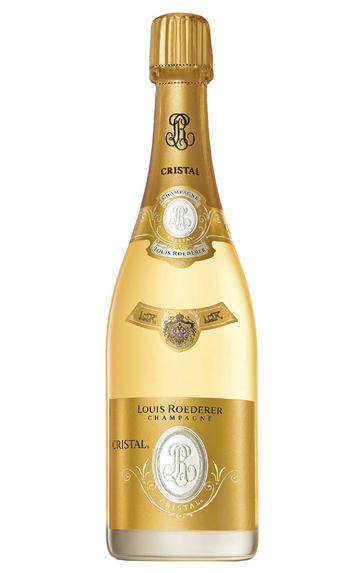 2009 Champagne Louis Roederer, Cristal, Brut
Prices start from £2,354.00 per jeroboam (300cl).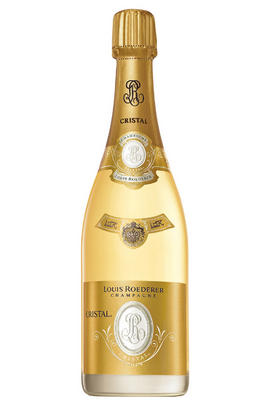 Critics reviews
The 2009 Cristal is a blend of Grands Crus from the Montagne de Reims, the Valle de la Marne and the Cte des Blancs (a total of 33-34 parcels of which 40% were farmed biodynamically). Like the 2008 Cristal, the 2009 also blends 60% Pinot Noir with 40% Chardonnay, and 16% of the wine was vinified in oak casks. No malolactic fermentation was done. The 2009 was aged for six years in the cellars and was disgorged in March 2016 with a dosage of eight grams per liter. Released two years ago, the 2009 is just starting another, more Burgundian life. Tasted in May 2018, the bouquet was pretty reductive, with flinty and toasty/nutty notes and some potted ginger flavors. Full-bodied, round and rich on the palate, this is a stunningly pure, fresh and salty 2009 that is driven by its chalky terroir and the lingering salinity. Is it really 2009? It is ripe, yes, but driven by the strength of chalk. The finish is pure, clean, fresh, very complex and long yet delicate and endlessly salty. However, two years after disgorgement, the 2009 Cristal is closing down and in a pretty reductive stage right now. Tasted May 2018.
Stephan Reinhardt - 18/06/2018
Antonio Galloni, Vinous
96/100
Rich, creamy and radiant, the 2009 Cristal captures all of the natural generosity of the vintage while also retaining a good bit of freshness and aromatic intensity. Immediate and totally sensual in its allure, the 2009 will drink well with minimal cellaring. All things considered, at this stage, the 2009 comes across as relatively restrained for a wine from a warm year.
Drink 2019 - 2049
Antonio Galloni, vinous.com (Jul 2017) Read more
A very rich and full-bodied Cristal that harks back to 2006 or 1989 in style. It's round and rich, which underlies the ripeness of the vintage. Lots of dried-apple and pineapple character with bread dough and flan flavors. The bubbles are so fine you almost don't notice them. Very vinous style. Drink now.
James Suckling, jamessuckling.com (Oct 2016) Read more
About this WINE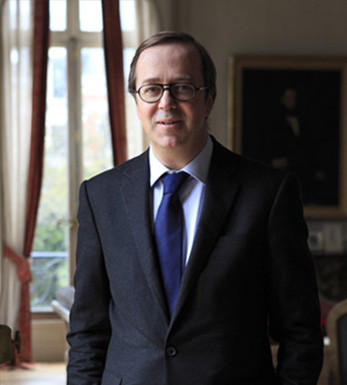 Louis Roederer
Founded in 1776, Louis Roederer is a family-owned, independent Champagne house with a well-deserved reputation for quality. It is managed by Frédéric Rouzaud, the seventh generation to be at the helm.
In 1876, Louis Roederer created the now-famous Cristal at the request of Alexander II. This once intensely sweet wine is now one of the most luscious, deeply flavoured champagnes available, with the '88, '89 and '90 among the greatest Cristals ever released.
Louis Roederer's best-selling non-vintage blend for almost 40 years, Brut Premier, has recently been replaced by Collection 242. This new multi-vintage blend was created by Chef du Caves Jean-Baptiste Lécaillon in response to increasingly warm vintages. The cuvée aims to capture freshness and is based on a perpetual reserve which focuses on acidity and minerality.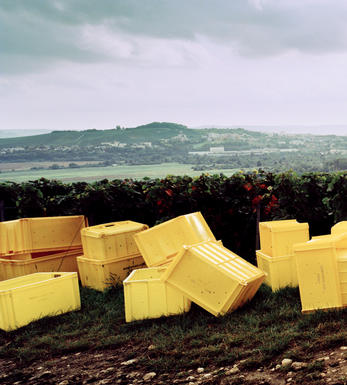 Brut Champagne
Brut denotes a dry style of Champagne (less than 15 grams per litre). Most Champagne is non-vintage, produced from a blend from different years. The non-vintage blend is always based predominately on wines made from the current harvest, enriched with aged wines (their proportion and age varies by brand) from earlier harvests, which impart an additional level of complexity to the end wine. Champagnes from a single vintage are labelled with the year reference and with the description Millésimé.

Non-vintage Champagnes can improve with short-term ageing (typically two to three years), while vintages can develop over much longer periods (five to 30 years). The most exquisite and often top-priced expression of a house's style is referred to as Prestige Cuvée. Famous examples include Louis Roederer's Cristal, Moët & Chandon's Dom Pérignon, and Pol Roger's Cuvée Sir Winston Churchill.
Recommended Producers : Krug, Billecart Salmon, Pol Roger, Bollinger, Salon, Gosset, Pierre Péters, Ruinart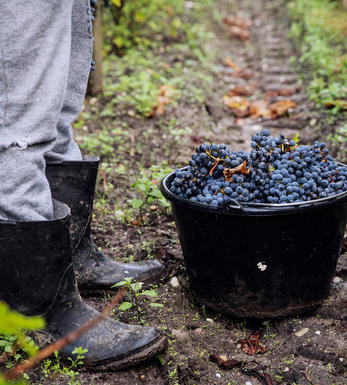 Champagne Blend
Which grapes are included in the blend, and their proportion, is one of the key factors determining the style of most Champagnes. Three grapes are used - Pinot Noir, Chardonnay and Pinot Meunier.

26% of vineyards in Champagne are planted with Chardonnay and it performs best on the Côtes des Blancs and on the chalk slopes south of Epernay. It is relatively simple to grow, although it buds early and thus is susceptible to spring frosts. It produces lighter, fresher wines than those from Burgundy and gives finesse, fruit and elegance to the final blend. It is the sole grape in Blancs de Blancs, which are some of the richest long-lived Champagnes produced.
Pinot Noir accounts for nearly 40% of the plantings in Champagne and lies at the heart of most blends - it gives Champagne its body, structure, strength and grip. It is planted across Champagne and particularly so in the southern Aube district.
The final component is Pinot Meunier and this constitutes nearly 35% of the plantings. Its durability and resistance to spring frosts make the Marne Valley, a notorious frost pocket, its natural home. It ripens well in poor years and produces a soft, fruity style of wine that is ideal for blending with the more assertive flavours of Pinot Noir. Producers allege that Pinot Meunier lacks ageing potential, but this does not deter Krug from including around 15% of it in their final blends.