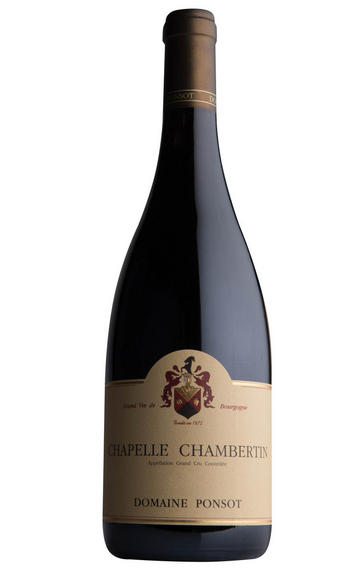 2009 Chapelle Chambertin, Grand Cru, Domaine Ponsot, Burgundy
Prices start from £2,100.00 per case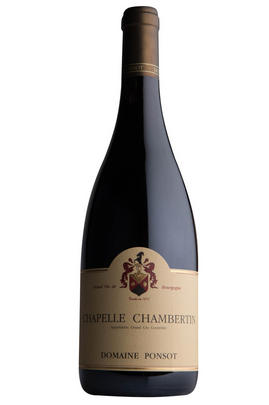 Critics reviews
Somewhat surprisingly, here the nose is even more elegant than that of the Griotte with its cool, airy and pure red cherry-liqueur, spice and essence of liquid minerality suffused nose that leads to dense, intense and equally mineral-driven big-bodied but refined flavors, all wrapped in a beautifully detailed, explosively long and youthfully austere finish. This is a serious and quite restrained effort that will require the better part of two decades to reach its full apogee.
(Allen Meadows - burghound.com)
About this WINE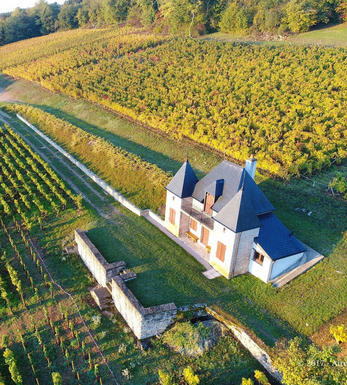 Domaine Ponsot
There is history of innovation here with it being one of the first Domaines to practise estate bottling in the 1930s, and perhaps more significantly the Ponsots were among the first growers to understand the importance of clones and clonal selection - many of the most important Pinot Noir clones originate from their vineyards.

The first Ponsot on the scene was William, originally from St Romain but on returning from the Franco-Prussian war he settled in Morey St Denis in 1872 and bought vineyard land including the Clos des Monts Luisants. He was succeeded in 1920 by his cousin and godson, Hippolyte Ponsot, who was joined by his son Jean-Marie in 1942. Jean-Marie, long-time mayor of Morey, ran the business from 1958 until the early 1980s when his son Laurent, currently the man in charge, took over.

Right from the start in 1872 the Ponsots bottled a proportion of their own wine, although this was only for the family and their restaurants- they owned the franchise for all the station buffets in northern Italy! Hippolyte took the decision to bottle the entire production of the domaine in 1934.

Laurent Ponsot takes a very individual approach. He uses no insecticide or pesticide but does not call himself organic. He pays attention to the moon and the stars, and the rhythm of plant life, but would not wish to be described as biodynamic. When the grapes are, eventually, picked, they received a faint dusting of sulphur but no more is used either during vinification or maturation, or indeed at bottling, except in the case of a specific problem.

There is no sorting table, because any defective bunches, or parts of bunches, have already been removed in the vineyards, before picking. The healthy grapes are destalked, for the most part, and allowed to ferment whenever they wish and for as long as they wish., with punching down or pumping over being used as Laurent sees fit in a given year. Excesses of temperature are controlled but otherwise the grapes are left to their own devices, before the juice is sent to barrel: not new wood, not even young wood, but barrels which are 10 or more years old. The wines may or may not be racked before bottling, assuming the moon is suitable, at some point in the spring or summer of the second year after the vintage.

All this runs counter to most received wisdom and the wines remain somewhat controversial. They can lose colour rapidly after the bottling only to rediscover it in full maturity. Great vintages are usually very impressive from the start. Minor years seem weak and almost dried out at the time of bottling but freshen up amazingly later on.

Ponsot also makes Charmes Chambertin and Clos de Vougeot vieilles vignes through an arrangement with another grower.

The average age of the vines across the Domaine is 50 years old and it is this, along with Laurent Ponsot's expertise, that give these wines their power, concentration, and rich, exotic and spicy nuances.

Laurent Ponsot has also being playing sleuth, attempting to track down those who are manufacturing false bottles of old wine in various international markets. The issue was drawn to his attention by some impossible auction lots – great old vintages of Clos St Denis, for example, when the first vintage produced of this wine by the domaine was 1982. Unfortunately where such bottles surface is no indication of where they were fabricated. There are now ways of testing the date of the glass bottles themselves, which may help in detecting fraud even if not in catching the fraudsters.

Jasper Morris MW, Burgundy Wine Director and author of the award-winning Inside Burgundy comprehensive handbook.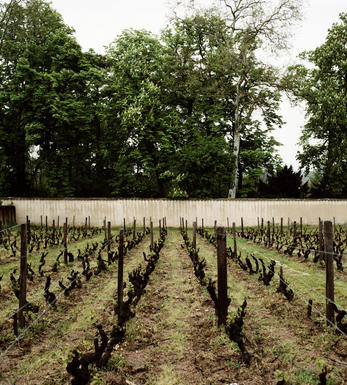 Gevrey Chambertin
Gevrey-Chambertin is the largest wine-producing village in Burgundy's Côte d'Or, with its vineyards spilling over into the next door commune of Brochon.

Located in the far north of the Côtes de Nuits above Morey-St Denis, classic Gevrey-Chambertin is typically deeper in colour, firmer in body and more tannic in structure than most red Burgundy. The best can develop into the richest, most complete and long-lived Pinot Noir in the world. This is largely thanks to the iron-rich clay soils, though much depends on whether the vineyard is located on either the steeper slopes (Evocelles, Clos St Jacques) or the flatter, richer soils (Clos Prieur, Combottes).

Whereas in the past there have been numerous underperformers in Gevrey-Chambertin exploiting the reputation of this famous village and its iconic Grands Crus, today there are many fine sources to choose from, and overall quality is higher than ever.

Gevrey-Chambertin's greatest Grand Cru is named after the field of the monk Bertin (Champ de Bertin). In 1847, Gevrey appended the name of this illustrious vineyard, Chambertin, setting a trend for the other principle villages to follow. Le Chambertin may not be quite as sumptuous as Musigny or Richebourg, or as divinely elegant as La Tâche or Romanée-St Vivant, but it is matched only by the legendary Romanée-Conti for completeness and luscious intensity.

In all, Gevrey boasts an impressive nine Grands Crus, with the name of Chambertin retaining a regal omnipresence throughout its finest vineyard names. The other truly great Grand Cru is Chambertin-Clos de Bèze which has the right to sell its wines simply as 'Chambertin', and is the only wine allowed to put the Chambertin name before, rather than after, its own. Situated slightly further up the hill, the wines are fractionally less powerful yet full of sensual charm and finesse.

Quality-wise the next best are generally acknowledged to be Mazis-Chambertin and Latricières-Chambertin. The former is incredibly concentrated and very fine, but its structure is a little less firm than Le Chambertin. Latricières is less about power (although it can be explosively fruity) and more about an entrancing silkiness.

Situated slightly higher up the slope, Ruchottes-Chambertin is impressively rich, stylish and slightly angular. The tiny Griottes-Chambertin, which owes its name to the grill-pan shape of the vineyard rather than the wine's griotte cherry aroma, is lower down the slope and boasts a velvety texture and rich fruit reminiscent of Chambertin itself. It is generally better than the lighter, although wonderfully fragrant Chapelle-Chambertin and Gevrey's largest Grand Cru, the pure and seductive (if variable) Charmes-Chambertin.

Gevrey also has some outstanding Premier Crus on the south-east-facing slopes above the town. Les Cazetiers and especially Clos St Jacques produce some exceptional wines. Indeed Armand Rousseau, who pioneered domaine bottling here in the 1930s and is still one of the region's very best producers, often sells his Clos St Jacques for more than several of his Grand Crus.

Drinking dates for these wines vary, but Grand Crus are generally best from at least 10 to 25 years, Premier Crus from eight to 20 years, and village wines from five to 12 years.
315 hectares of village Gevrey Chambertin
84 hectares of Premier Cru vineyards (20 in all). The foremost vineyards include Clos St Jacques, Lavaux St Jacques, Combottes, Corbeaux, Cherbaudes, Cazetiers.
55 hectares of Grand Cru vineyards: Chambertin, Chambertin Clos de Bèze, Latricières-Chambertin, Ruchottes-Chambertin, Mazis-Chambertin, Charmes-Chambertin, Mazoyères-Chambertin, Chapelle-Chambertin, Griottes-Chambertin..
Recommended producers: Bachelet, Dugat, Esmonin, Mortet, Rossignol Trapet, Rousseau, Serafin, Bernstein
Recommended restaurants : Chez Guy (good wine list), Rôtisserie du Chambertin (and Bistro)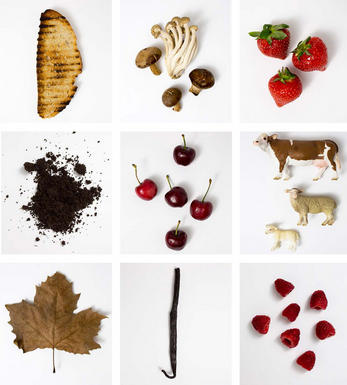 Pinot Noir
Pinot Noir is probably the most frustrating, and at times infuriating, wine grape in the world. However when it is successful, it can produce some of the most sublime wines known to man. This thin-skinned grape which grows in small, tight bunches performs well on well-drained, deepish limestone based subsoils as are found on Burgundy's Côte d'Or.

Pinot Noir is more susceptible than other varieties to over cropping - concentration and varietal character disappear rapidly if yields are excessive and yields as little as 25hl/ha are the norm for some climats of the Côte d`Or.
Because of the thinness of the skins, Pinot Noir wines are lighter in colour, body and tannins. However the best wines have grip, complexity and an intensity of fruit seldom found in wine from other grapes. Young Pinot Noir can smell almost sweet, redolent with freshly crushed raspberries, cherries and redcurrants. When mature, the best wines develop a sensuous, silky mouth feel with the fruit flavours deepening and gamey "sous-bois" nuances emerging.
The best examples are still found in Burgundy, although Pinot Noir`s key role in Champagne should not be forgotten. It is grown throughout the world with notable success in the Carneros and Russian River Valley districts of California, and the Martinborough and Central Otago regions of New Zealand.