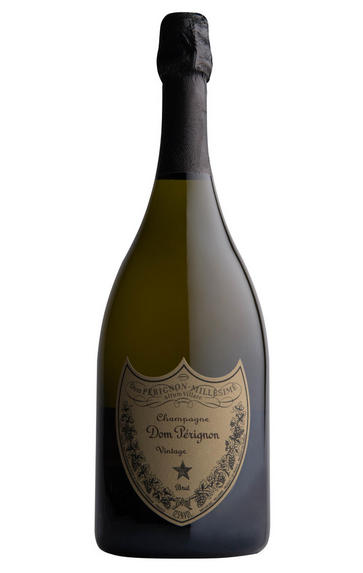 2010 Champagne Dom Pérignon, Brut
Prices start from £920.00 per case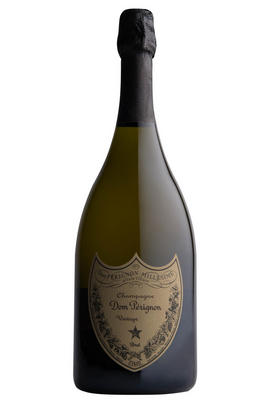 Critics reviews
The 2010 Dom Pérignon is already expressive, wafting from the glass with aromas of crisp green apple, peach, iodine, freshly baked bread, orange oil and smoke. Medium to full-bodied, pillowy and charming, it's soft and round, with ripe acids, a moderately concentrated core of fruit and a pearly mousse, concluding with a saline finish. 
Open-knit and pretty, this is a giving Dom Pérignon that readers might think of as reminiscent of a less reductive version of the 2000 vintage.
William Kelley, Wine Advocate (May 2020)
Jancis Robinson MW
18.5/20
A vintage Vincent Chaperon is convinced has been misguidedly overlooked. 54% Chardonnay, 46% Pinot Noir. Dosage 5g/l. This bottle was disgorged February 2019. Amazingly, obviously, Dom P on the nose –the powerful lemon-mousse nose came soaring out of the glass long before my nose got anywhere near it.
Massive intensity of complex aroma hints that this might be a little blowsy on the palate but not a bit of it. It's really tense and tight on the palate and has a certain fumey smokiness to the very concentrated palate. But its most marked feature is the persistence of the finish.
This, along with the concentration, makes me confident we will be seeing this in a P2 version, even though 15% of the potential Pinot Noir was left on the ground. Definitely not a weak vintage of Dom Perignon.
Drink 2020 - 2030
Jancis Robinson MW, JancisRobinson.com (July 2020)
A firm and vivid Champagne with a precise, focused palate. Full-bodied and dry. It's very layered and bright with light pineapple, peach, praline, cooked-apple and stone aromas and flavours. It's very subtle and focused at the end. Integrated with richness and high acidity. Good depth. Reminds me of the 1995. Very clean. Solid.
Lovely to drink already, but will age nicely.
James Suckling, Jamessuckling.com (July 2020)
The 2010 Dom Pérignon is hard to get a read on today. I have tasted it four times over the last few months, and my feeling is that it is still not totally put together. Apricot, pastry, chamomile, mint and light tropical notes are all signatures of a hot vintage with a very fast final phase of ripening that trails only 2002 and 2003 in terms of sugars. Of course, the year had plenty of challenges. 
The first part of the year was marked by cold and very dry weather during the winter and spring. June saw heat and some stress in the vines. July and August were quite warm, with heavy rains on August 15 and 16 that caused a widespread outbreak of botrytis that accelerated rapidly in the days leading up to harvest. 
Chef de Caves Vincent Chaperon explained that Chardonnay was favored over Pinot because better aeration within the clusters helped fend off rot, while parcels that had been less stressed by the June heat also suffered less from the effects of botrytis. Perhaps because of the unevenness in the season, there is also something disjointed about the 2010. 
While sugars were high, so were acidities, just behind 2008 in the decade of the 2000s. It will be interesting to see where the 2010 goes over time. It is the first vintage made under the direction of Vincent Chaperon, who worked alongside outgoing Chef de Caves Richard Geoffroy for many years.
Drink 2021 - 2035
Antonio Galloni, Vinous.com (November 2020)
About this WINE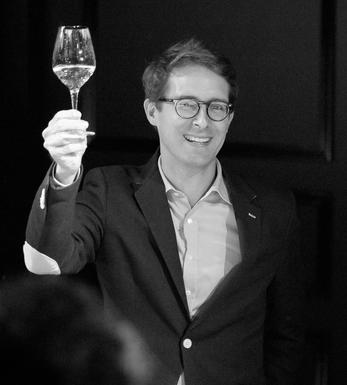 Dom Perignon
Dom Pérignon was the 17th century Benedictine monk who has gone down in history as the person who "invented" Champagne. His name was originally registered by Eugène Mercier. He sold the brand name to Moët & Chandon, which used it as the name for its prestige cuvée, which was first released in 1937.

A rigorous selection process in both the vineyard and winery ensures that only the best grapes go into Dom Pérignon champagne. Chardonnay and Pinot Noir are used in roughly equal proportions without one variety dominating the other.

In its youth, Dom Pérignon shows incredibly smooth, creamy fruit with perfect balance and weight. As it ages, it takes on wonderfully toasty aromas and a finesse equalled by very few of the other Grandes Marques.

Since 2014 Dom Pérignon has no longer been using the term oenothèque for its late-release Champagnes, but the word Plenitude. This style represents Dom Pérignon champagne that is left in contact with its lees and does not evolve in a linear fashion, but ages in a series of stages, producing "windows of opportunity, or plenitudes" when the Champagne can be disgorged and released to bring consumers a different expression of the same vintage.

There are three plenitudes in the life of a given vintage: the first plenitude spans between seven to eight years after the vintage, which is when Dom Pérignon Vintage is released, while the second one arrives between 12 and 15 years – which was previously the first oenothèque release, but from now will be branded as P2. The third window comes after around 30 years, when the Champagne has spent more than 20 years on its lees, which will now be termed as P3.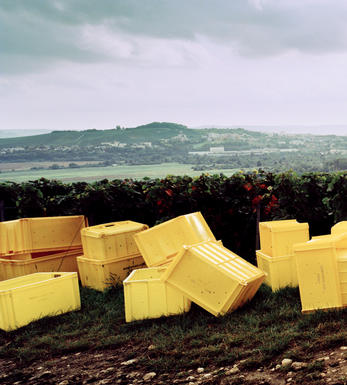 Brut Champagne
Brut denotes a dry style of Champagne (less than 15 grams per litre). Most Champagne is non-vintage, produced from a blend from different years. The non-vintage blend is always based predominately on wines made from the current harvest, enriched with aged wines (their proportion and age varies by brand) from earlier harvests, which impart an additional level of complexity to the end wine. Champagnes from a single vintage are labelled with the year reference and with the description Millésimé.

Non-vintage Champagnes can improve with short-term ageing (typically two to three years), while vintages can develop over much longer periods (five to 30 years). The most exquisite and often top-priced expression of a house's style is referred to as Prestige Cuvée. Famous examples include Louis Roederer's Cristal, Moët & Chandon's Dom Pérignon, and Pol Roger's Cuvée Sir Winston Churchill.
Recommended Producers : Krug, Billecart Salmon, Pol Roger, Bollinger, Salon, Gosset, Pierre Péters, Ruinart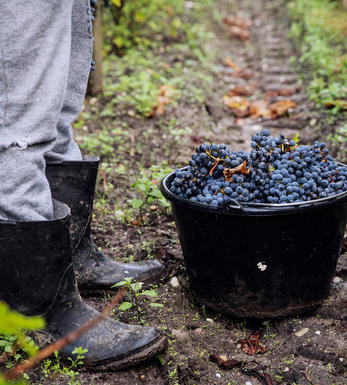 Champagne Blend
Which grapes are included in the blend, and their proportion, is one of the key factors determining the style of most Champagnes. Three grapes are used - Pinot Noir, Chardonnay and Pinot Meunier.

26% of vineyards in Champagne are planted with Chardonnay and it performs best on the Côtes des Blancs and on the chalk slopes south of Epernay. It is relatively simple to grow, although it buds early and thus is susceptible to spring frosts. It produces lighter, fresher wines than those from Burgundy and gives finesse, fruit and elegance to the final blend. It is the sole grape in Blancs de Blancs, which are some of the richest long-lived Champagnes produced.
Pinot Noir accounts for nearly 40% of the plantings in Champagne and lies at the heart of most blends - it gives Champagne its body, structure, strength and grip. It is planted across Champagne and particularly so in the southern Aube district.
The final component is Pinot Meunier and this constitutes nearly 35% of the plantings. Its durability and resistance to spring frosts make the Marne Valley, a notorious frost pocket, its natural home. It ripens well in poor years and produces a soft, fruity style of wine that is ideal for blending with the more assertive flavours of Pinot Noir. Producers allege that Pinot Meunier lacks ageing potential, but this does not deter Krug from including around 15% of it in their final blends.