About this WINE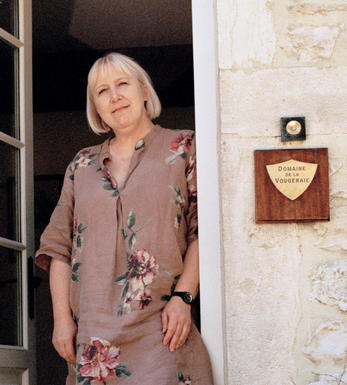 Domaine de la Vougeraie
Domaine de la Vougeraie is part of our Spotlight on sustainability series. You can view the full range here.

Domaine de la Vougeraie, based in Premeaux just south of Nuits St Georges, was created in 1999 when Jean-Claude Boisset of the Boisset group decided to group together all the vineyard holdings of his various negociant companies acquired over the years. The name comes from the significant holdings – and indeed Jean-Claude Boisset's home – in the village of Vougeot. The winery is located however in the old Claudine Deschamps (Madame Jean-Claude Boisset) cellars in Prémeaux. The domaine was put together from the various vineyard holdings which had accrued through the Boisset acquisitions of Burgundian houses over the years. Pascal Marchand was put in charge in 1999, with Bernard Zito in the vineyards, which were farmed biodynamically. Pascal produced powerful wines, fairly heavily extracted in his early vintages but clearly was subsequently moving to a softer approach by 2004.

With nearly 40 hectares of vineyard and over 30 different appellations, including six grand crus (Musigny, Bonnes Mares, Clos Vougeot, Charmes Chambertin, Mazoyères, Corton Clos du Roi and Corton Charlemagne), this is one of Burgundy's leading domaines.

No expense has been spared in production terms. The premier and grand cru vineyards are all farmed biodynamically with carefully limited yields. The cellar has been equipped with a battery of new or renovated wooden fermentation vats, a state of the art sorting table and a new model of the old fashioned vertical press which is thought to be the best option for red wines. The wines were made by Pascal Marchand of Comte Armand in Pommard, from 1999 to 2005 and subsequently by Pierre Vincent who has maintained the more delicate approach. The grapes are sorted on one of the longest tables de tri I have seen, before being given a cool pre-maceration. During fermentation Pierre punches down only once a day, much less than Pascal used to. The temperature is maintained at 26º-28ºC/79-81ºF after fermentation to polymerise the tannins and fix the colour. The Musigny is destemmed by hand. Starting in 2008 he has begun to experiment with some whole bunch fermentation, though only for a proportion of a given cuvée.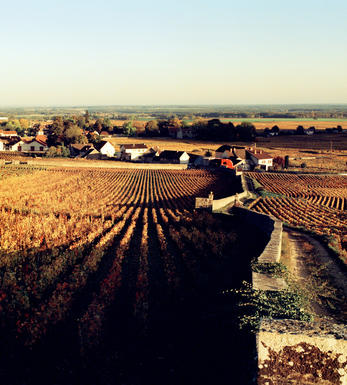 Burgundy
Burgundy never quite achieved its political ambitions of being a kingdom in its own right, but for many, the region produces some of the most regal red and white wines in the world.
In Burgundy there are 100 different appellations, numerous individual vineyards and more than 3,000 individual producers. Around 15 million cases are produced annually from 26,500ha of vines in Burgundy, which is usually sub-divided into five regions: Chablis in the Yonne department; the Côte de Nuits and Côte de Beaune in the department of the Côte d'Or; and the Chalonnais and Mâconnais in the Saone-et-Loire.
The world's most famous white wine grape may have originated in Burgundy, where there's a village called Chardonnay (near Mâcon). This marvellous, full-bodied grape responds well to barrel ageing and can produce wines of great complexity that can age for decades. More often than not though, in recent times, the wines are better enjoyed in their youth. The simpler white wines of Chablis to the north, and the Mâconnais in the south, are usually made in stainless steel to preserve freshness.

The heartland for white Burgundy is the Côte de Beaune with its three great villages, Meursault, Puligny-Montrachet and Chassagne-Montrachet. Here the vineyard classification system really comes into its own. On the flattest land, the wines will be classed only as generic Bourgogne Blanc; as the slope begins to rise, the wines are designated by the name of their village. At mid-slope, the finest vineyards (whose wines are bottled separately) are categorised as Premier Cru (eg Les Charmes) or Grand Cru (Le Montrachet).

Though attractive wines can be found in the Côte Chalonnais (Mercurey, Givry), the great red wines of Burgundy are found in the Côte d'Or. The line of magical villages which constitutes the Côte de Nuits, Gevrey-Chambertin, Morey-St Denis, Chambolle-Musigny, Vougeot, Vosne-Romanée and Nuits-St Georges is practically a roll call of great names. The Côte de Beaune competes through such gems as Volnay and Pommard, which are adjacent yet contrasting villages: lacy elegance for the wines of Volnay, while sturdy and more structured in those from Pommard.
Whereas Burgundy used to be considered a veritable minefield because of the complexity of choice, these days it is more of a playground for the adventurous wine lover, thanks to the vast increase in number of quality-conscious, properly-trained producers.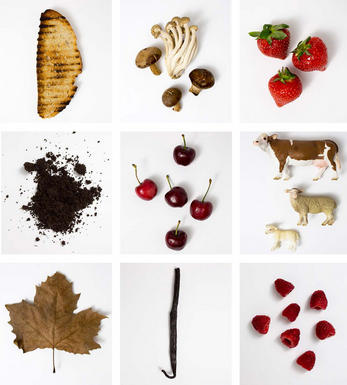 Pinot Noir
Pinot Noir is probably the most frustrating, and at times infuriating, wine grape in the world. However when it is successful, it can produce some of the most sublime wines known to man. This thin-skinned grape which grows in small, tight bunches performs well on well-drained, deepish limestone based subsoils as are found on Burgundy's Côte d'Or.

Pinot Noir is more susceptible than other varieties to over cropping - concentration and varietal character disappear rapidly if yields are excessive and yields as little as 25hl/ha are the norm for some climats of the Côte d`Or.
Because of the thinness of the skins, Pinot Noir wines are lighter in colour, body and tannins. However the best wines have grip, complexity and an intensity of fruit seldom found in wine from other grapes. Young Pinot Noir can smell almost sweet, redolent with freshly crushed raspberries, cherries and redcurrants. When mature, the best wines develop a sensuous, silky mouth feel with the fruit flavours deepening and gamey "sous-bois" nuances emerging.
The best examples are still found in Burgundy, although Pinot Noir`s key role in Champagne should not be forgotten. It is grown throughout the world with notable success in the Carneros and Russian River Valley districts of California, and the Martinborough and Central Otago regions of New Zealand.