Critics reviews
What a beautifully refreshing summer wine for ambitious wine freaks! Gantenbein's 2021 Pinot Noir opens with a deep, pure, slightly flinty, and toasty yet intensely fruity bouquet with raspberry, blackberry, chocolate and oak aromas. 
Full-bodied, straight and fresh on the palate, this is a very elegant, juicy, silky textured and full-bodied Pinot with a straight, tight, long and saline finish that reveals fine but grippy tannins. Impressive wine! 13% stated alcohol. Natural cork.
Drink 2026 - 2045
Stephan Reinhardt, Wine Advocate (June 2023)
About this WINE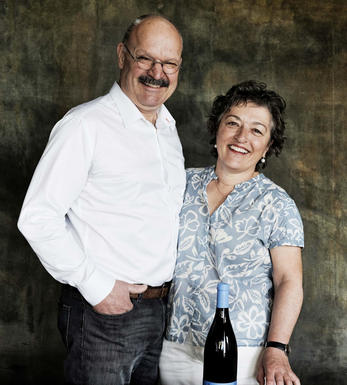 Daniel & Martha Gantenbein
Daniel and Martha Gantenbein are Swiss winemakers who have gained international recognition. They are the proprietors of the Weingut Gantenbein, a small family-owned winery located in the village of Fläsch in the Graubünden canton of Switzerland.
Daniel Gantenbein, the winemaker, is deeply committed to organic and biodynamic practices, working closely with nature to achieve the highest quality in his wines.
Martha Gantenbein, Daniel's wife, plays a vital role in the winery's operations. She manages the business side of the estate and is responsible for marketing and distribution.
The winery's vineyards cover around 6.5 hectares and are planted with various grape varieties, including Pinot Noir, Chardonnay, and Pinot Gris. The vineyards are on steep slopes, benefiting from the region's unique microclimate and diverse soils.
Daniel and Martha Gantenbein's dedication to their craft, respect for the land, and commitment to producing exceptional wines have firmly established them as leading figures in the Swiss wine industry. Their wines represent the pinnacle of Swiss winemaking and continue to captivate wine lovers with their unique expression of the Graubünden terroir.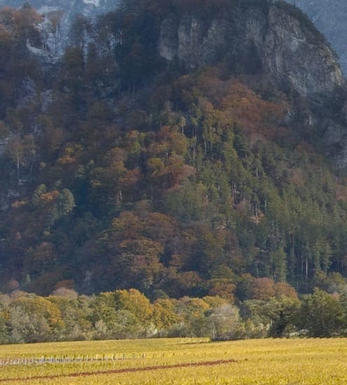 Switzerland
Despite being a relatively small wine-producing country, Switzerland has a rich winemaking tradition dating back over a thousand years. Wine production is concentrated mainly in the country's southwestern part, where the climate and geography are favourable for viticulture.
The wine regions are divided into six main areas: Valais, Vaud, Geneva, Ticino, Neuchâtel, and the Three Lakes region (Murten, Biel/Bienne, and Neuchâtel), each with its own unique characteristics and grape varieties.
The Valais region in the Rhône Valley is Switzerland's largest and most significant. It is known for its sunny climate and diverse terroirs, producing a wide range of wines. Valais is renowned for its white wines from Chasselas, a grape variety widely grown in Switzerland. Other grape varieties cultivated in Valais include Pinot Noir, Gamay, Petite Arvine, Amigne, and Cornalin.
Vaud, situated on the northern shores of Lake Geneva, is another prominent wine region in Switzerland. It is famous for its Chasselas wines, which account for a significant portion of the region's production. Vaud is also known for its red wines, primarily made from Pinot Noir. The region benefits from a mild climate and diverse soils, providing favourable conditions for wine production.
The Geneva region, located in the westernmost part of Switzerland, produces various wines, including Chasselas, Pinot Noir, Gamay, and Chardonnay. The region's vineyards benefit from a temperate climate and the influence of nearby Lake Geneva.
Ticino, situated in the Italian-speaking part of Switzerland, has a more Mediterranean climate than other Swiss wine regions. The region is known for its Merlot wines, which thrive in Ticino's warmer weather and terraced vineyards. Different grape varieties in Ticino include Chardonnay, Pinot Noir, and Bondola.
Neuchâtel, located northwest of Switzerland, is renowned for its delicate white wines from Chasselas. The region also produces red wines, mainly from Pinot Noir, and some sparkling wines.
The Three Lakes region, encompassing the cantons of Murten, Biel/Bienne, and Neuchâtel, is known for its sparkling wines produced using traditional methods. The area benefits from a unique microclimate influenced by the three lakes—Lake Murten, Lake Biel/Bienne, and Lake Neuchâtel.
While Swiss wines are less well-known internationally than those from neighbouring countries such as France, Italy, and Germany, wine enthusiasts highly regard them for their unique character and expression of terroir. The Swiss wine industry focuses on producing wines that reflect the distinctive qualities of their respective regions, showcasing the diversity and richness of Swiss viticulture.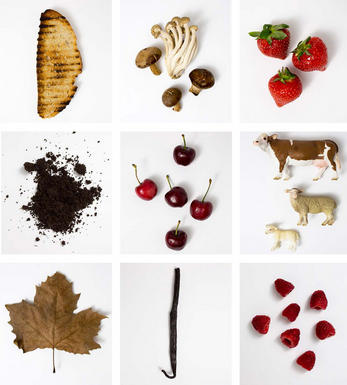 Pinot Noir
Pinot Noir is probably the most frustrating, and at times infuriating, wine grape in the world. However when it is successful, it can produce some of the most sublime wines known to man. This thin-skinned grape which grows in small, tight bunches performs well on well-drained, deepish limestone based subsoils as are found on Burgundy's Côte d'Or.

Pinot Noir is more susceptible than other varieties to over cropping - concentration and varietal character disappear rapidly if yields are excessive and yields as little as 25hl/ha are the norm for some climats of the Côte d`Or.
Because of the thinness of the skins, Pinot Noir wines are lighter in colour, body and tannins. However the best wines have grip, complexity and an intensity of fruit seldom found in wine from other grapes. Young Pinot Noir can smell almost sweet, redolent with freshly crushed raspberries, cherries and redcurrants. When mature, the best wines develop a sensuous, silky mouth feel with the fruit flavours deepening and gamey "sous-bois" nuances emerging.
The best examples are still found in Burgundy, although Pinot Noir`s key role in Champagne should not be forgotten. It is grown throughout the world with notable success in the Carneros and Russian River Valley districts of California, and the Martinborough and Central Otago regions of New Zealand.