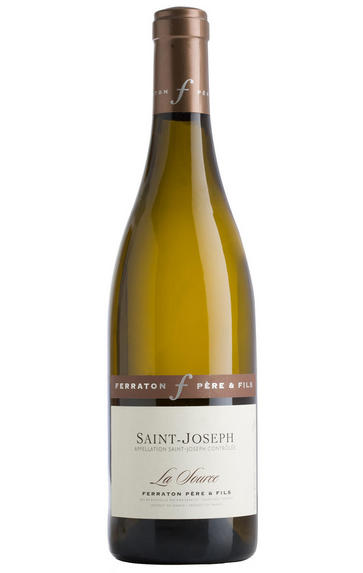 2010 St-Joseph, La Source, Domaine Ferraton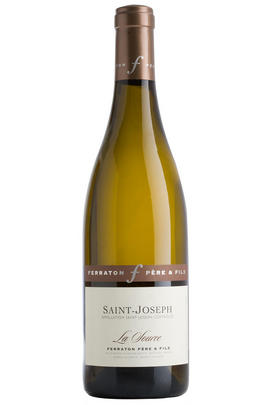 About this WINE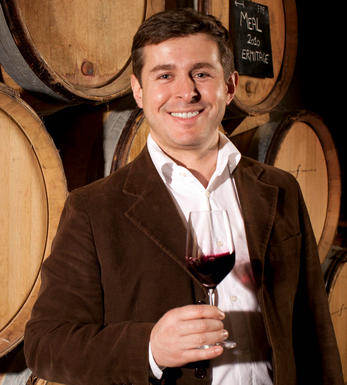 Maison Ferraton
Maison Ferraton is a very fine Northern Rhône wine estate that was run for many years by Michel Ferraton. It is now run by Samuel Ferraton, the fourth generation of the family, who worked for a while in conjunction with Chapoutier frères. The firm has vineyard holdings in Hermitage and Crozes-Hermitage and its wine cellars are located immediately behind those of Marc Sorrel in the heart of Tain l`Hermitage.
Samuel Ferraton is very much an artisan winemaker- yet he employs many modern techniques that he picked up while working with the Chapoutiers.

Consequently, the wines are a marvellous marriage of the old and the new, displaying good structure and well-defined fruit characters, allied with very judicious and limited use of new oak. The wines are bottled unfined and unfiltered.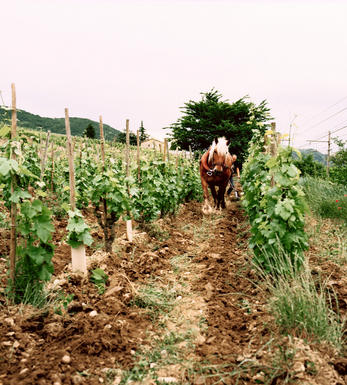 Saint-Joseph
St Joseph is the second-largest appellation in the Northern Rhône with 50 growers producing wines from over 600 hectares of vineyards. Established in 1956, over 90 percent of the wine is red – made exclusively from the Syrah grape. The white wines, meanwhile, are typically a blend of Marsanne and Roussanne varieties. Its vineyards run due south on the west side below Condrieu, and are in six communes: Mauves, Tournon, St Jean-de-Muzols, Lemps, Vion and Glun.

The styles of wine in St Joseph tend to be much lighter than other red Appellations d'Origine Contrôlee and the quality can vary dramatically. The soils and climate differ, as it is a long, narrow AOC. There is no particular characteristic of the commune as some wines are produced near Côte-Rôtie, while others are near to Cornas.

The best St Josephs are still produced in the original heartland of the appellation between St Jean-de-Muzols and Mauves, where soils are predominately granitic with patches of limestone and schist. Typically, even the finest St Josephs are slightly lighter and faster-maturing than the wines of Hermitage, as St Joseph's east-facing vineyards lose the sun up to two hours earlier in the crucial ripening season.

To meet demand, some extensions of the appellation have been made on less than ideal land, producing wines of indifferent quality.

Recommended producers: Pierre Gaillard, Jerome Coursodon, Paul Jaboulet
Best vintages: 2006, 2005, 2004, 2003, 2000, 1999, 1996, 1990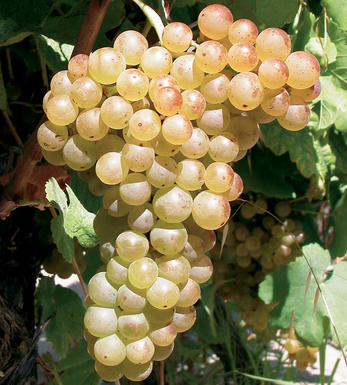 Marsanne
Marsanne is the predominant white grape variety grown in the Northern Rhône where it is used to produce white St. Joseph, Crozes-Hermitage, and Hermitage. It is a tricky grape to cultivate, being susceptible to diseases and being particularly sensitive to extreme climatic changes - if growing conditions are too cool, then it fails to ripen fully and produces thin, insipid wines, while, if too hot, the resultant wines are blowsy, overblown and out of balance.
In the Northern Rhône it tends to be blended with around 15% Rousanne and produces richly aromatic, nutty wines which age marvellously - the best examples are from Hermitage and particularly from Chapoutier. Increasingly it is being grown in the Southern Rhône and Languedoc Roussillon where it is bottled as a single varietal or blended with Roussanne, Viognier, and sometimes Chardonnay. It is also grown very successfully in Victoria in Australia where some of the world`s oldest Marsanne vines are to be found.
Critics reviews
More elegant and polished, with notes of powdered granite, strawberries and black cherries is the dark ruby/purple-tinged, medium-bodied 2010 St.-Joseph La Source.
If the turn around in quality of the Paul Jaboulet-Aine wines is the biggest good news story of qualitative improvement in the northern Rhone, what Michel Chapoutier has accomplished with Ferraton is a close second. This is definitely a name to be taken seriously, as Chapoutier has expanded the portfolio and continues to upgrade the quality across the board. Ferraton's 2009s and 2010s are the finest wines made to date. There appears to be three levels of quality now being produced, beginning with the generic bottlings, to the single vineyard (or lieu-dit) offerings, followed by the top of the line, more expensive, limited production efforts called selections parcellaires.
(Robert Parker - Wine Advocate - Oct 2011)
100% Marsanne near Mauves, bottled last autumn. Quite ripe and herby on the nose. A little tight but this may turn out to be quite a steal? Not showing its charm at the moment.
(Jancis Robinson & Julia Harding MW - jancisrobinson.com - 1 Mar 2012)
More elegant and polished, with notes of powdered granite, strawberries and black cherries is the dark ruby/purple-tinged, medium-bodied 2010 St.-Joseph La Source.
If the turn around in quality of the Paul Jaboulet-Aine wines is the biggest good news story of qualitative improvement in the northern Rhone, what Michel Chapoutier has accomplished with Ferraton is a close second. This is definitely a name to be taken seriously, as Chapoutier has expanded the portfolio and continues to upgrade the quality across the board. Ferraton's 2009s and 2010s are the finest wines made to date. There appears to be three levels of quality now being produced, beginning with the generic bottlings, to the single vineyard (or lieu-dit) offerings, followed by the top of the line, more expensive, limited production efforts called selections parcellaires.
(Robert Parker - Wine Advocate - Oct 2011)