About this WINE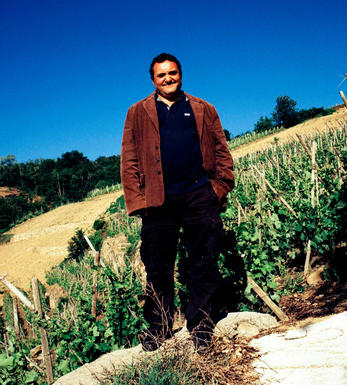 Domaine Yves Cuilleron
Founded by his grandfather in 1920, Yves now represents the third generation of Cuilleron vignerons although he initially trained as an engineer. The lure of the vine proved too hard to resist and, after a year's training at the École Viticole in Macon, he took over the vineyards in 1987. Back then it measured 3.5 hectares; he has since grown it to an impressive 75 hectares, spanning the length of the Northern Rhône. He makes over 40 different cuvées from the range of appellations: half red, half white. The winery itself if based in Chavanay – a commune just south of Condrieu.
He is particularly admired for his rich, aromatic and mineral expressions of Condrieu, where he owns 12 hectares of vines. In recent years he has been bottling some as single vineyards; the label of each featuring a map of the area. He aims to convey the particularities of each terroir, most notably the two types of granite – biotite and muscovite – prevalent in the soils. His top Condrieu wines are complex and age-worthy – he cautions to drink them either within seven years of vintage or to wait a further five to ten (at risk of finding them in a closed spell).
Yves also makes some very fine reds. He owns eight hectares in Côte-Rôtie and makes a variety of styles there, including single vineyard expressions. Here he also works with Serine, an indigenous Syrah clone (some call it a variety) with smaller berries and a distinct cherry note. It is gradually being replaced by the hardier Syrah, but some winemakers are striving to protect it.
Oak is quite a feature in his winemaking, but he uses it sympathetically. He does not allows it to dominate the fruit, but rather carve character into each. His '20s show brilliant concentration and power, but also the freshness and approachability for which this vintage has been recognized.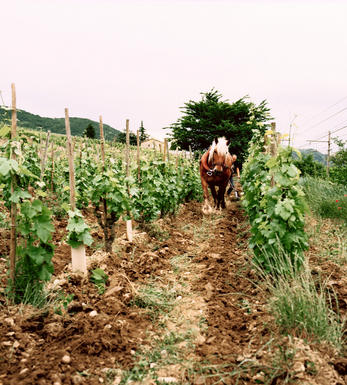 Saint-Joseph
Saint-Joseph is the second-largest appellation in the Northern Rhône with 50 growers producing wines from over 600 hectares of vineyards. Established in 1956, over 90 percent of the wine is red – made exclusively from the Syrah grape. The white wines, meanwhile, are typically a blend of Marsanne and Roussanne varieties. Its vineyards run due south on the west side below Condrieu, and are in six communes: Mauves, Tournon, St Jean-de-Muzols, Lemps, Vion and Glun.
The styles of wine in St Joseph tend to be much lighter than other red Appellations d'Origine Contrôlee and the quality can vary dramatically. The soils and climate differ, as it is a long, narrow AOC. There is no particular characteristic of the commune as some wines are produced near Côte-Rôtie, whilst others are near to Cornas.
The best St Josephs are still produced in the original heartland of the appellation between St Jean-de-Muzols and Mauves, where soils are predominately granitic with patches of limestone and schist. Typically, even the finest St Josephs are slightly lighter and faster-maturing than the wines of Hermitage, as Saint-Joseph's east-facing vineyards lose the sun up to two hours earlier in the crucial ripening season.
Recommended producers: Pierre Gaillard, Domaine Coursodon and Paul Jaboulet.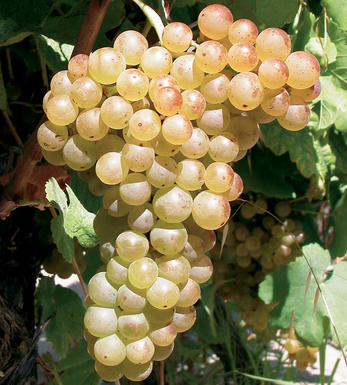 Marsanne
Marsanne is the predominant white grape variety grown in the Northern Rhône where it is used to produce white St. Joseph, Crozes-Hermitage, and Hermitage. It is a tricky grape to cultivate, being susceptible to diseases and being particularly sensitive to extreme climatic changes - if growing conditions are too cool, then it fails to ripen fully and produces thin, insipid wines, while, if too hot, the resultant wines are blowsy, overblown and out of balance.
In the Northern Rhône it tends to be blended with around 15% Rousanne and produces richly aromatic, nutty wines which age marvellously - the best examples are from Hermitage and particularly from Chapoutier. Increasingly it is being grown in the Southern Rhône and Languedoc Roussillon where it is bottled as a single varietal or blended with Roussanne, Viognier, and sometimes Chardonnay. It is also grown very successfully in Victoria in Australia where some of the world`s oldest Marsanne vines are to be found.